Creating a Beach-Themed Patio Layout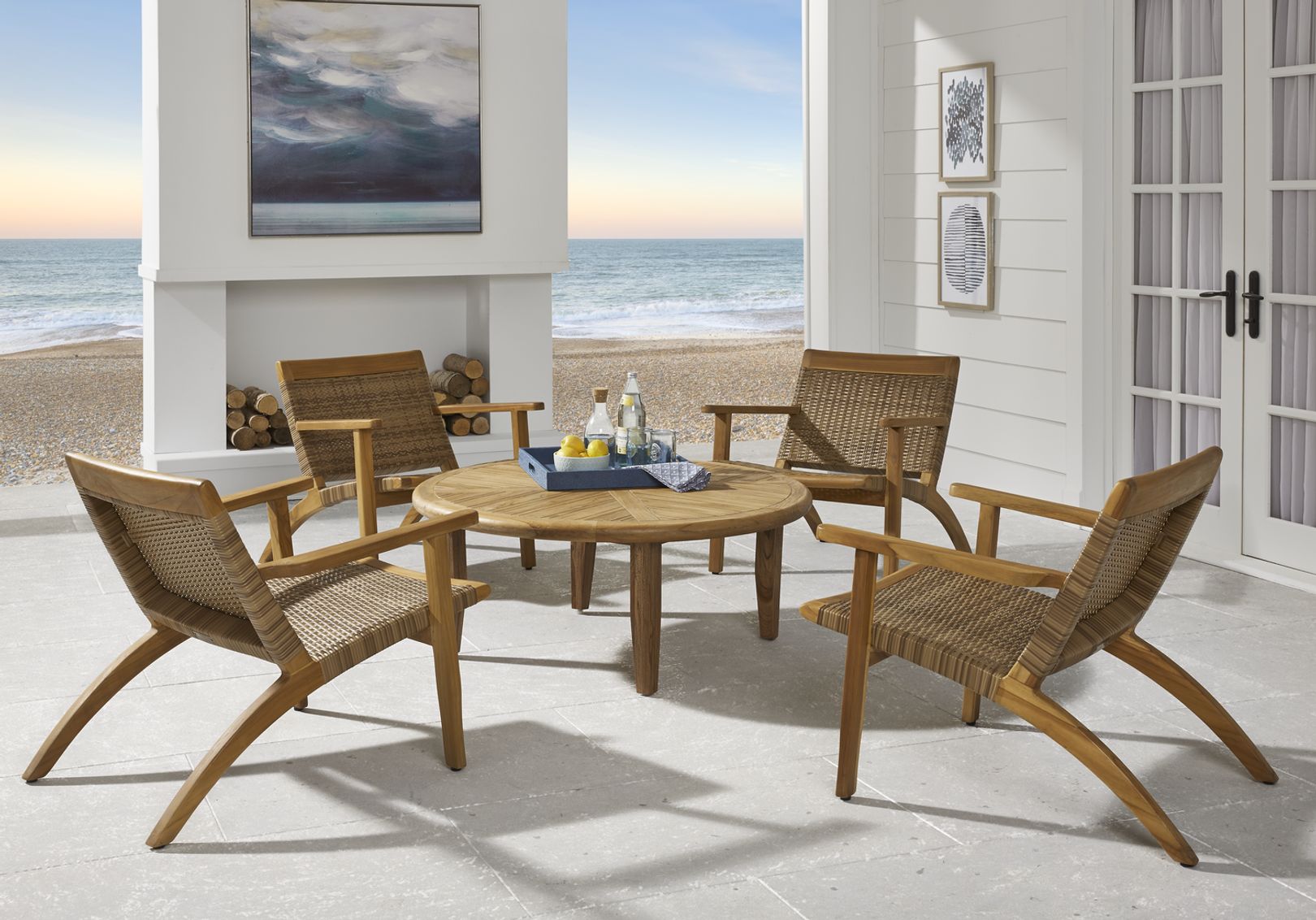 Creating a Beach-Themed Patio Layout
Establishing a beachy theme in your backyard is an excellent way to transform your layout into a sunny, relaxing getaway. To achieve this goal, you'll need to decide whether you want your chic and casual setup to have more coastal, nautical or tropical appeal. From there, you can select beach patio decor that evokes the calm yet refreshing vibe of a seaside vacation spot.
Overview
Want to know what outdoor beach decor you can use to help your yard, porch or patio look like your favorite coastal paradise? Use this handy beach-themed outdoor decor guide to learn about: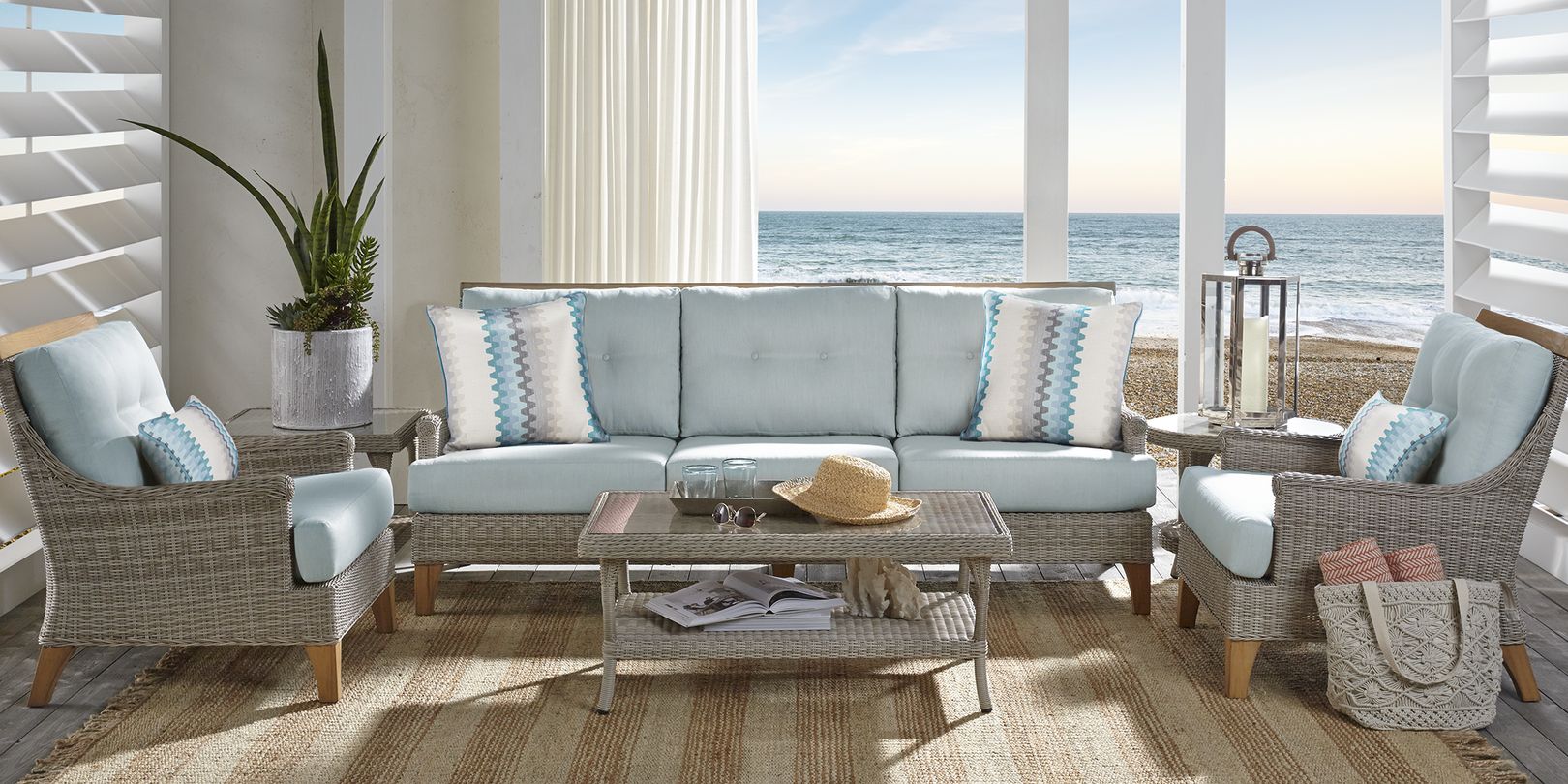 While coastal, nautical and tropical themes share similar elements, there are subtle differences to each design.
Coastal Design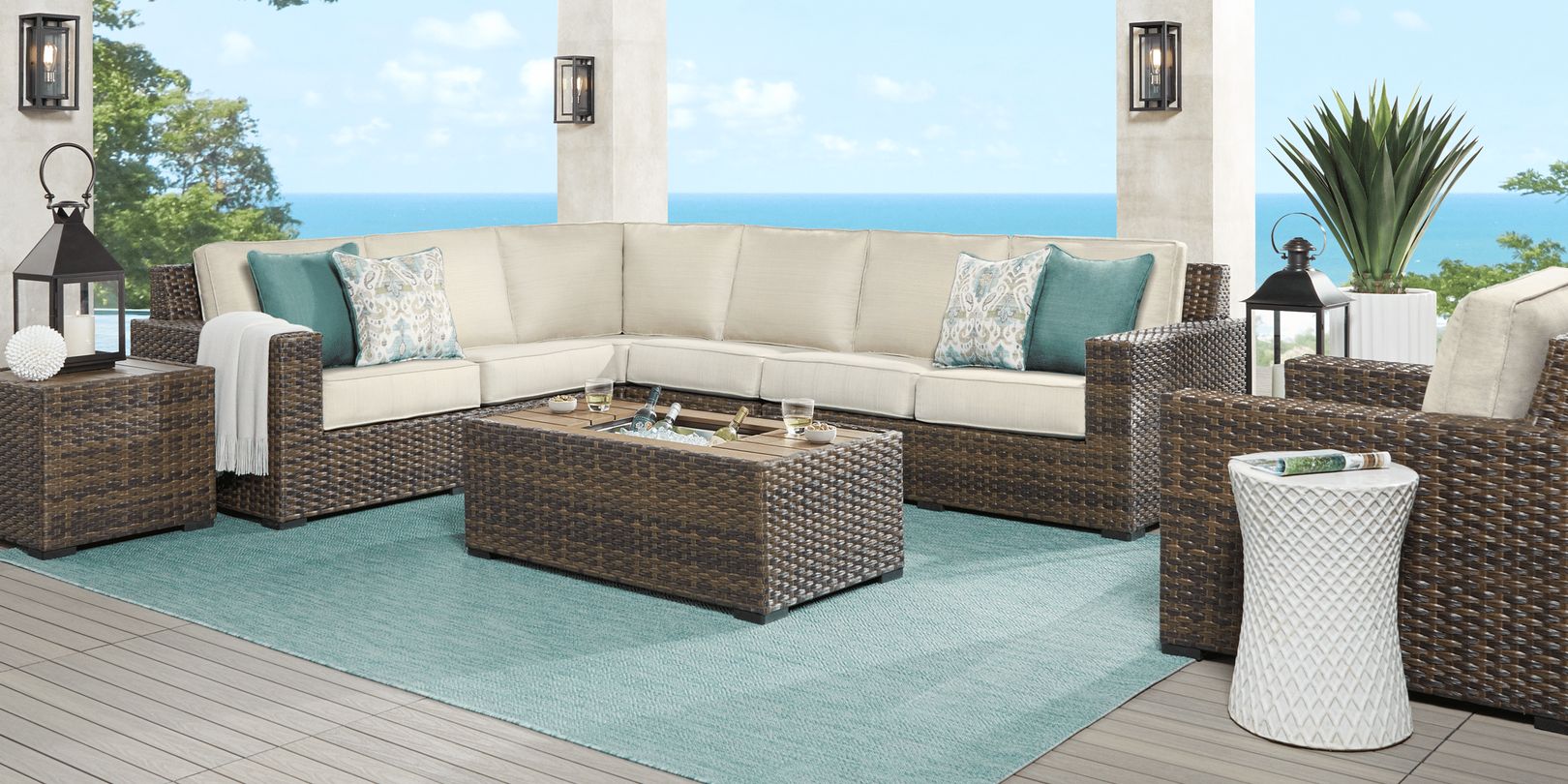 With the right color palette, comfy furnishings and beachy motifs, you can transform your patio into a coastal haven.
How to Make Your Yard Look Like a Beach
To create a coastal theme, you'll need to fill your backyard with beach decor that reminds you of the sun, sand and sea. While this design might showcase the occasional pink flamingo garden sculpture or boldly-painted Adirondack chair, coastal layouts predominantly feature soft colors, rugged textures and ocean-inspired accents to remind you of a sunny afternoon by the shore.
Breezy Coastal Color Palettes
Coastal outdoor decor typically mimics the natural colors you see when spending a day at the beach. However, you can blend a few bold hues in with the sky blues, ocean teals, sunny yellows and sandy beiges to personalize your unique palette. Add a serine feel to your patio using these soft seaside tones:
Shades of Blue: Blue tones evoke the calming vibe of the bright sky and ocean waves, promoting a chill vibe on your patio when the weather gets hot. A light blue sectional with seashell-patterned toss pillows is the perfect tranquil combo for your coastal deck layout.
Neutral Beiges: Select furnishings and decor featuring bleached taupes and tans that remind you of pristine sandy shores. Combining blue dining seat cushions, a beige wicker dining arrangement and a soft tan area rug sets the stage for al fresco meals on your breezy coastal patio.
Striking Whites: For many people, white patio furniture is a staple of coastal outdoor decor. It promotes a crisp, clean aesthetic while pairing beautifully with other furnishings and vibrant accents. A white daybed or set of chaise lounges makes for upscale poolside relaxation, while white patio umbrellas offer shade to keep things cool and stylish.
Soft Greens: Refresh your patio with hints of teal and key lime green. Pin-striped green and white cushions give your beachy layout a timeless look. Meanwhile, a couple of potted leafy plants let you kick back and listen to the sounds of sawgrass and palm fronds blowing in the breeze.
Vibrant Yellows: Yellow furnishings are excellent for warming up your coastal outdoor layout. Bring some sunshine and much-needed shade to your beach-themed dining area with a sunny yellow table umbrella. Or, add some cheery curb appeal by choosing yellow rockers for your front porch.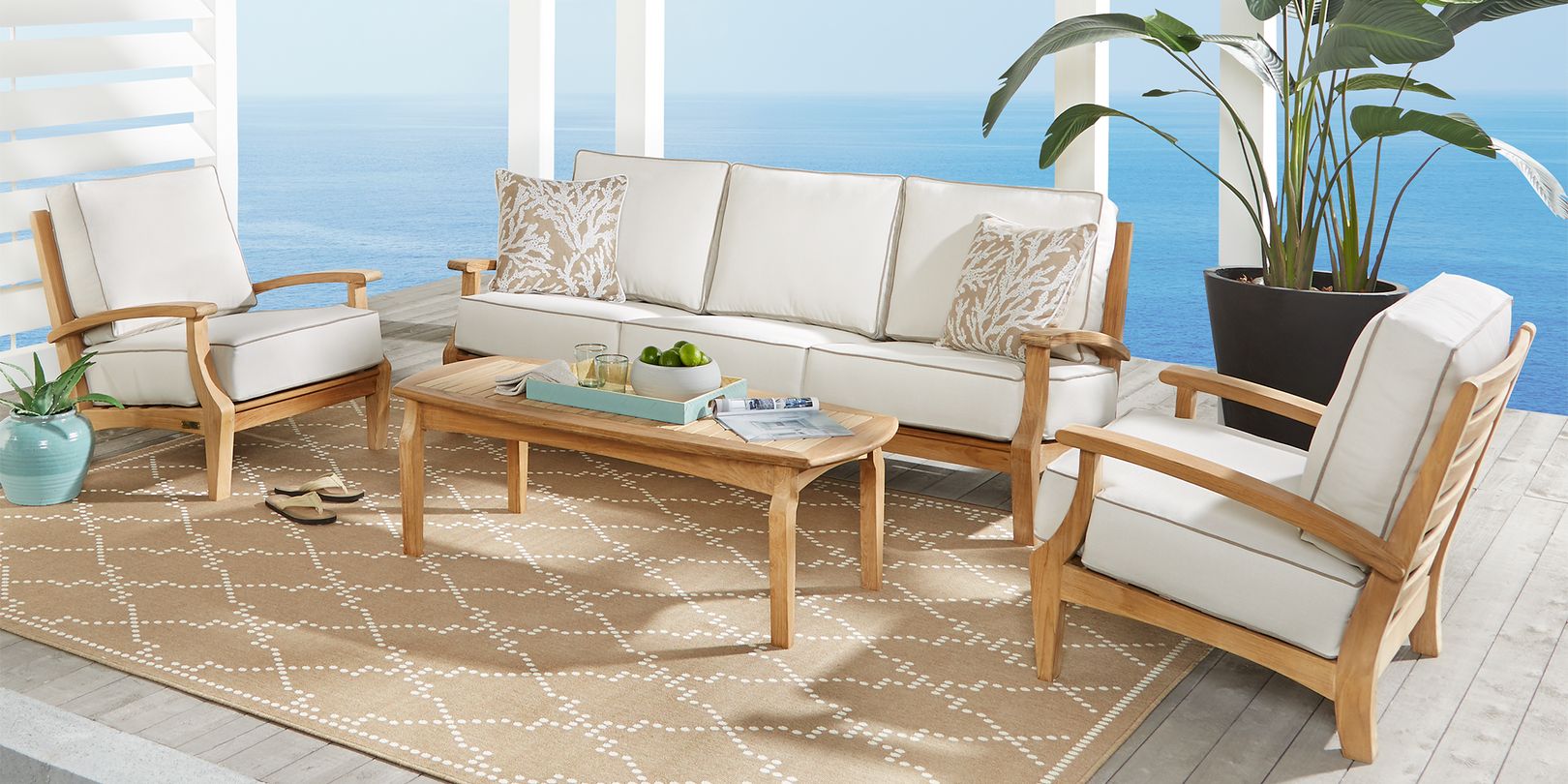 Coastal-style patio seating with white cushions, coral-print pillows and a sandy beige rug.
Lounge-Worthy Furniture & Coastal Decor
With this design style, it's important to choose coastal outdoor furniture that promotes refreshing relaxation. Choose items with smooth textiles, natural finishes and comfy cushions that keep you cozy. Set up reclining seats, swings and ottomans that let you kick back and soak up the sun. Also, select a teak dining set with adjustable bar stools, sling-back seats or teak chairs featuring tie-on cushions.
Less is more when it comes to coastal outdoor decor, so you only have to incorporate a few accents to make a huge impact. Oversized seashells and a set of colorful sea glass bottles can add beachy flair to any outdoor dining table or seating area. Woven seagrass baskets further the look, while lantern-style sconces provide ambient lighting and charming appeal.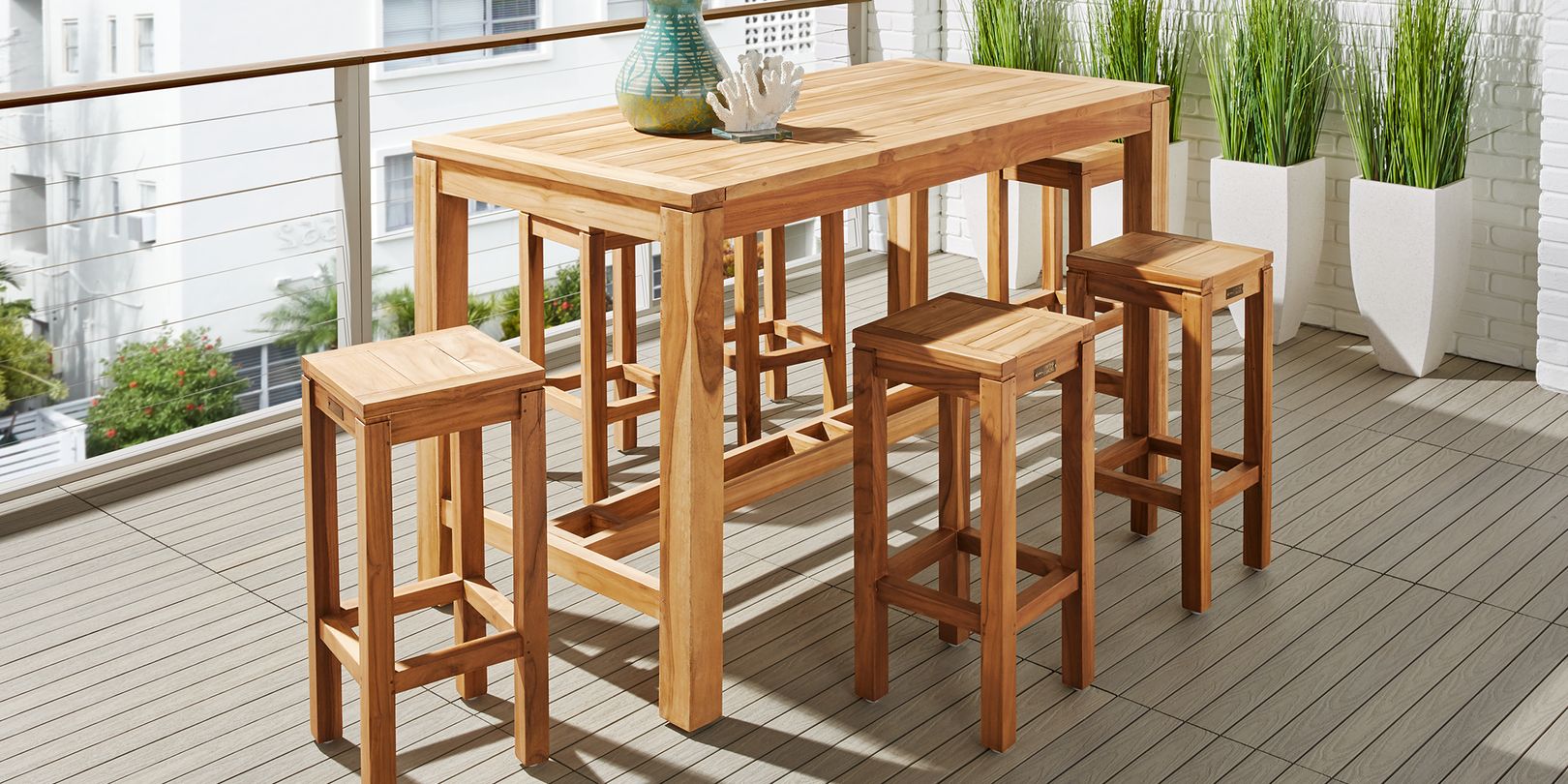 Complete your beachy balcony using a teak bar height dining set with coral-shaped tabletop decor.
Chic, Beachy Textures
Even if your current setup features a different decor style, you can use textured beach patio decor to evoke a breezy, coastal atmosphere. Incorporate a few ocean-themed accents into your modern layout to upgrade the simple, chic aesthetic. Or, achieve a bohemian beach look with comfy rattan seating, driftwood accents, and soft white outdoor fabrics. For a rustic look, check out coffee tables, dining tables and conversation sets featuring shiplap panels or weathered wood finishes.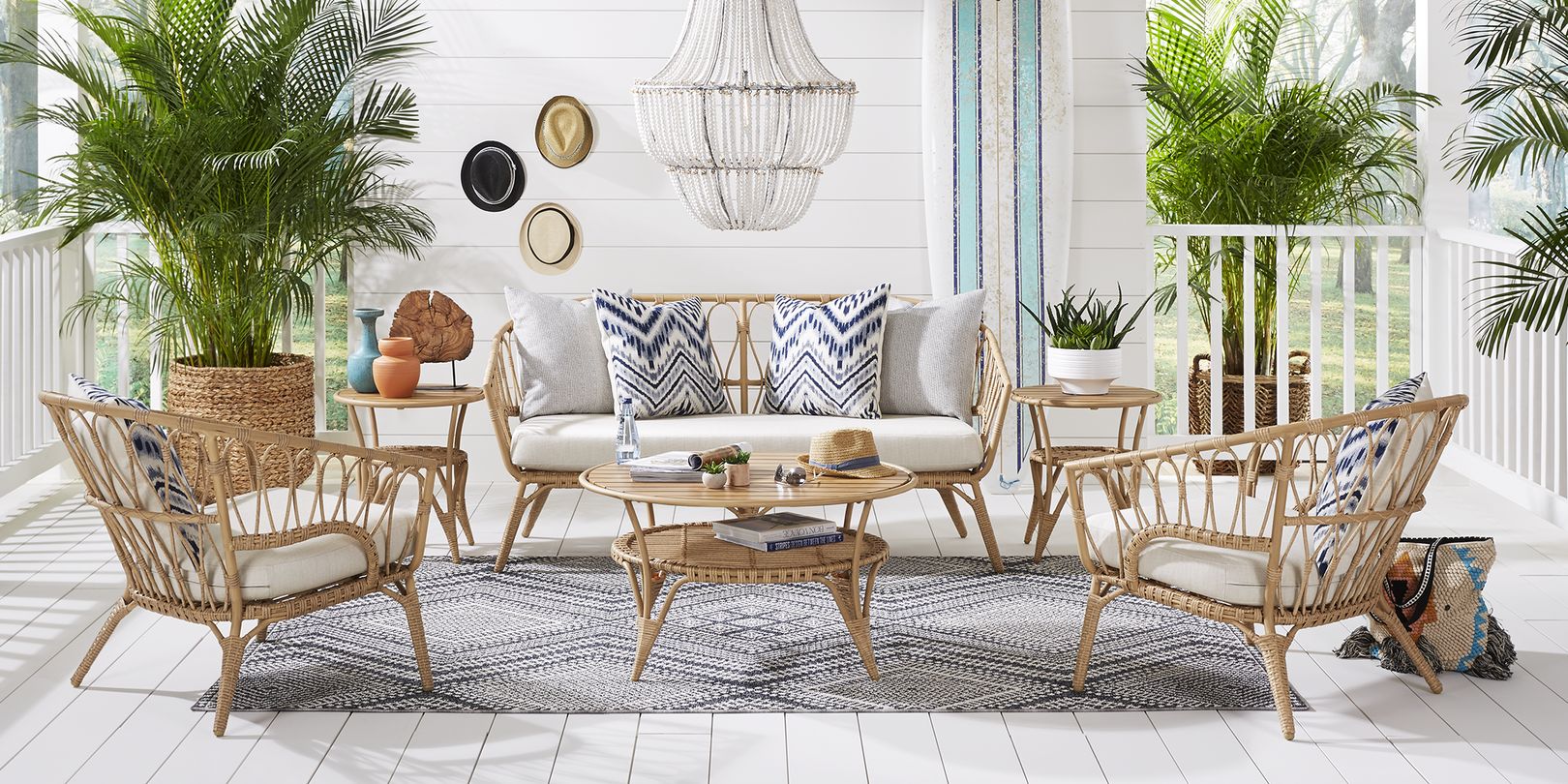 Rattan seating and other natural accents are perfect for a boho-chic, beach style patio.
Nautical Style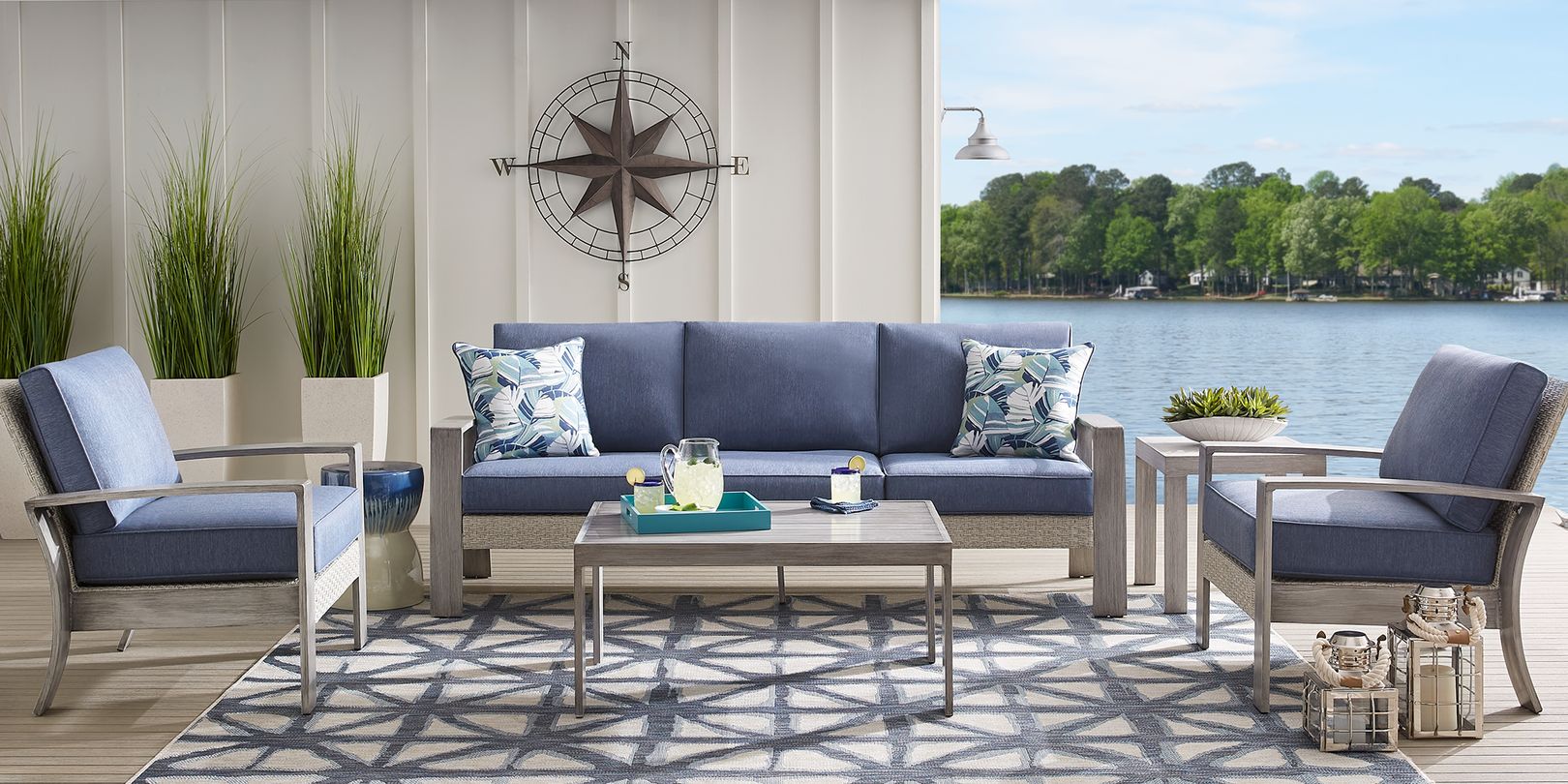 Ocean blue color schemes, clean lines and sailing-themed accessories define nautical-style patios.
Creating a Nautical Retreat
Showcase your love of boating throughout your patio using nautical outdoor decor. While the theme typically calls for specific colors and accessories, there are several ways to make your nautical layout your own. If you're a sailor yourself, you can even decorate your space to resemble your actual vessel and make every season feel like boating season.
Colors, Textures & Prints
Blue and white colors are staples of the nautical aesthetic. Think striped blue chaise lounges, navy blue and white rugs with nautical motifs, or solid blue sofas with white piping. You might also add bright scarlet toss pillows, vases and throw blankets to establish a patriotic red-white-and-blue theme. Or, wrap a nautical flag banner around your porch banister or under your enclosed patio awning.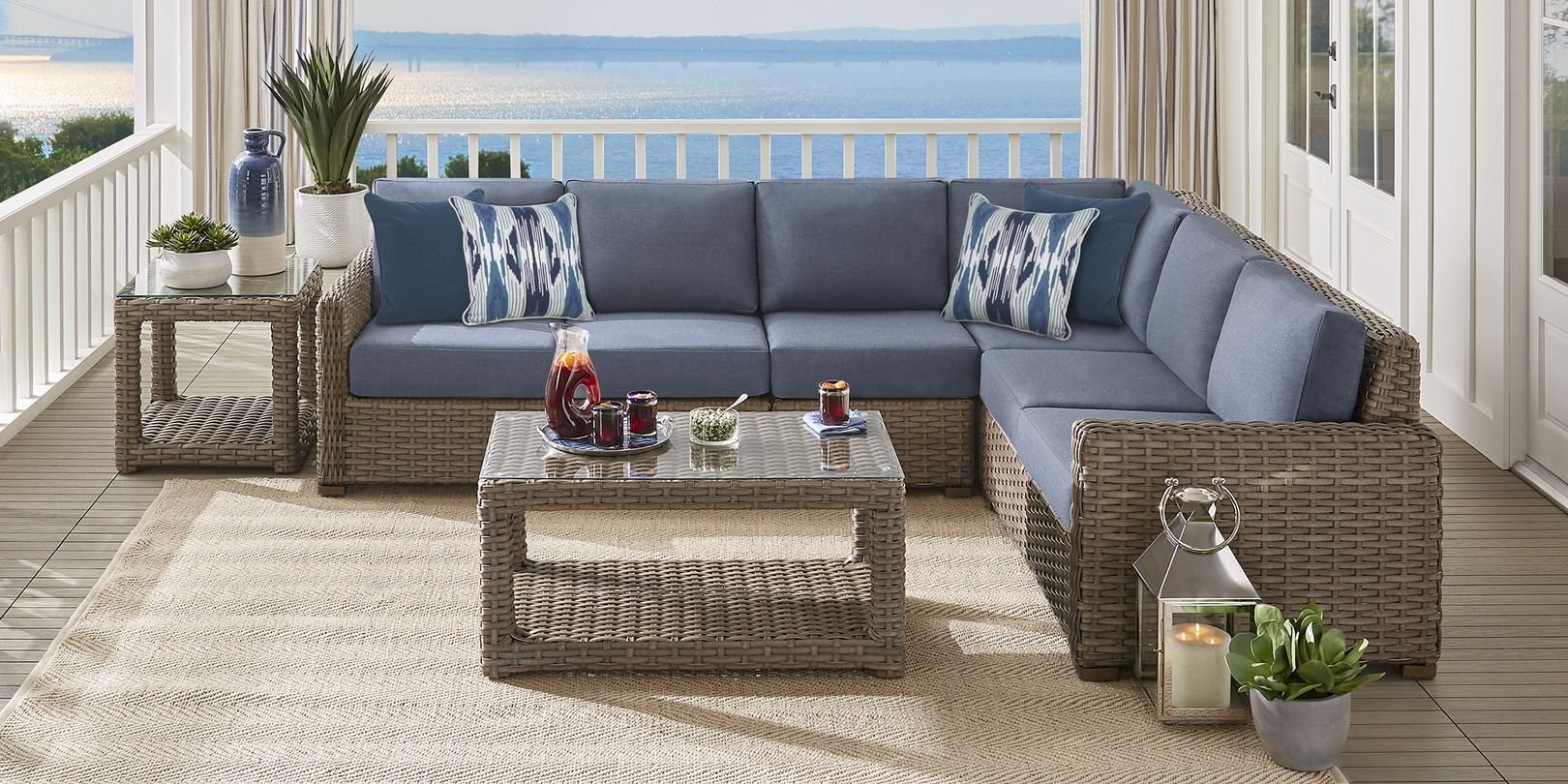 Add extra textures, colors and prints to the traditional blue and white palette to personalize your nautical design.
Nautical outdoor decor includes various textured items, such as decorative netting you can hang along your backyard fence, woven wicker conversation sets and wood dining tables with plank-style tops. Ropes and knots are also common in this decor style, so many nautical patios have rope-wrapped candleholders atop wooden side tables.
Outdoor accessories with themed prints and patterns are essential for creating a nautical patio theme. Maritime motifs such as anchors, helm wheels, seagulls and compasses are prevalent in this style. As such, area rugs, throw pillows and wall hangings featuring these prints are the perfect finishing touch for a nautical patio layout.
Timeless Furnishings & Accessories
Like coastal decor, nautical outdoor furniture has simple silhouettes, clean lines, textured accents and comfortable seating. Whether you're outfitting your deck or patio with a classic conversation set or a casual dining ensemble, choosing pieces in this style makes it easy to evoke a relaxed yet sophisticated nautical aesthetic.
Along with textured, patterned textiles, you can use accessories to punch up your nautical theme. A model sailboat looks elegant above an outdoor fireplace, while propellers, life preservers and fishing hooks enhance the authentic feel. You can also add rustic lighthouse figurines and bronze sconces or lanterns to mimic the look of a vintage dock light.
Tropical Layouts
Your Personal Tropical Getaway
Creating an island paradise in your backyard can be a breeze with tropical patio furniture and decor. With this style, vibrant hues, dynamic patterns, organic textures and exotic plant life help give your deck or terrace the look and feel of a beachfront resort. If you're looking to enhance the relaxed yet invigorating atmosphere of your space, a tropical beach patio design might be the perfect solution.
Warm & Bright Colors
Bold, vivid hues are a strong theme in tropical layouts, evoking a fun and lively feel throughout the space. However, you often see a few cooler tones to contrast the sunny oranges, hot pinks and fiery reds in a typical beachy palette. When choosing tropical outdoor decor, consider using the following shades to establish a balanced color scheme:
Restful & Fun Furniture
Tropical patio furniture gives you a spot to lounge around on your own and enjoy lively get-togethers with family and friends. Set up a dark brown wicker bar table and stools and invite guests over for a fun cocktail party. When you need some alone time, a porch swing or chaise lounge can serve as the perfect solo seat.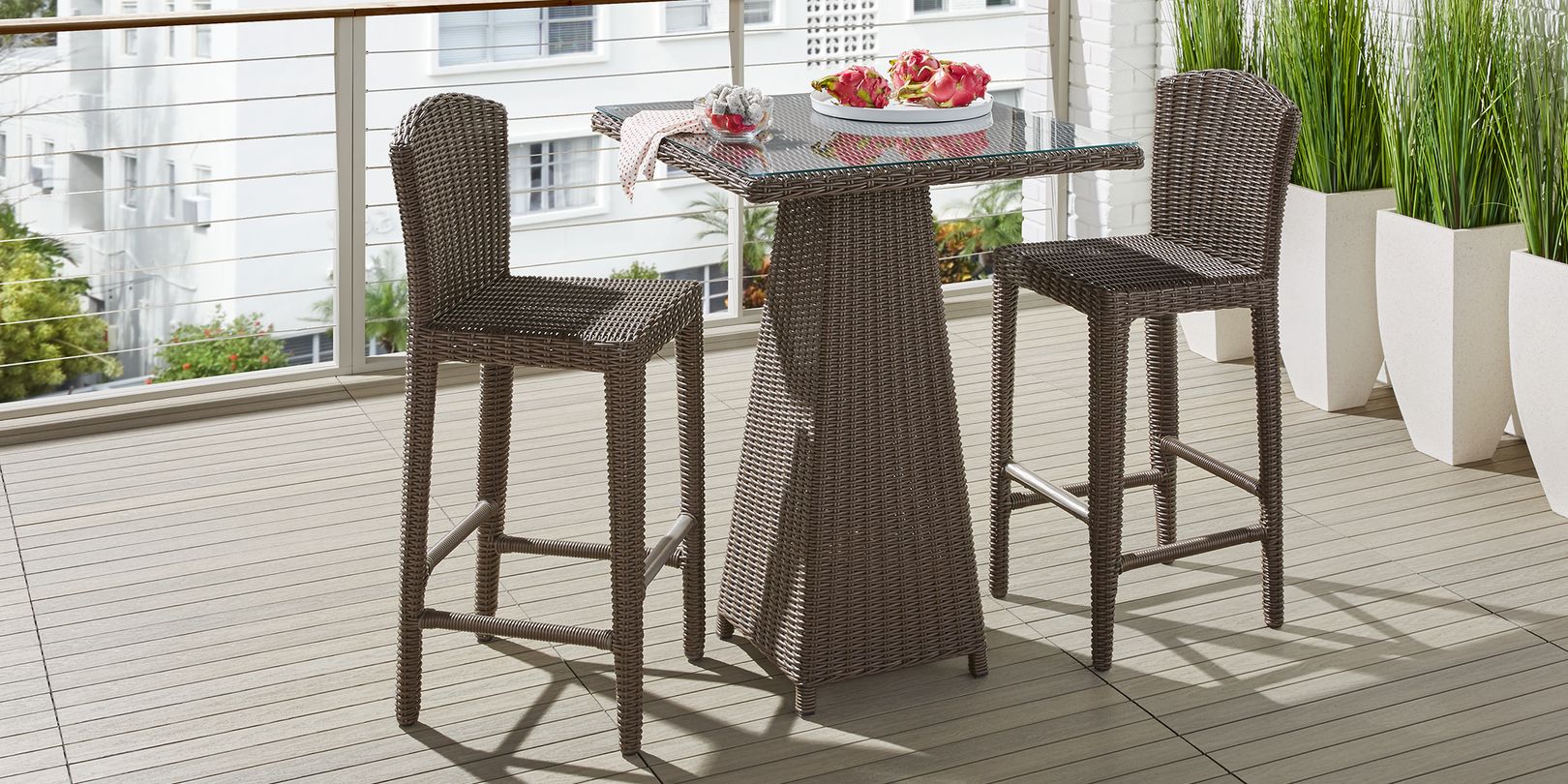 Whether you're entertaining guests or enjoying a quiet, at-home date night under the stars, a wicker bar set is a must-have for your tropical patio.
Finishing Touches
People often decorate their balconies, porches and patios with beach decor because it reminds them of the tropical and coastal locations they love most. Consider incorporating some souvenirs, family vacation photos and hand-crafted accessories that conjure up memories of your favorite beach trips.
Whether you want to capture the calming, tranquil vibe of a quiet coastal town or the fun, vibrant energy of a tropical island, a beach-themed patio is the way to go. With the color, texture and design tips in this guide, you'll be able to create a personal seaside oasis in your own backyard.