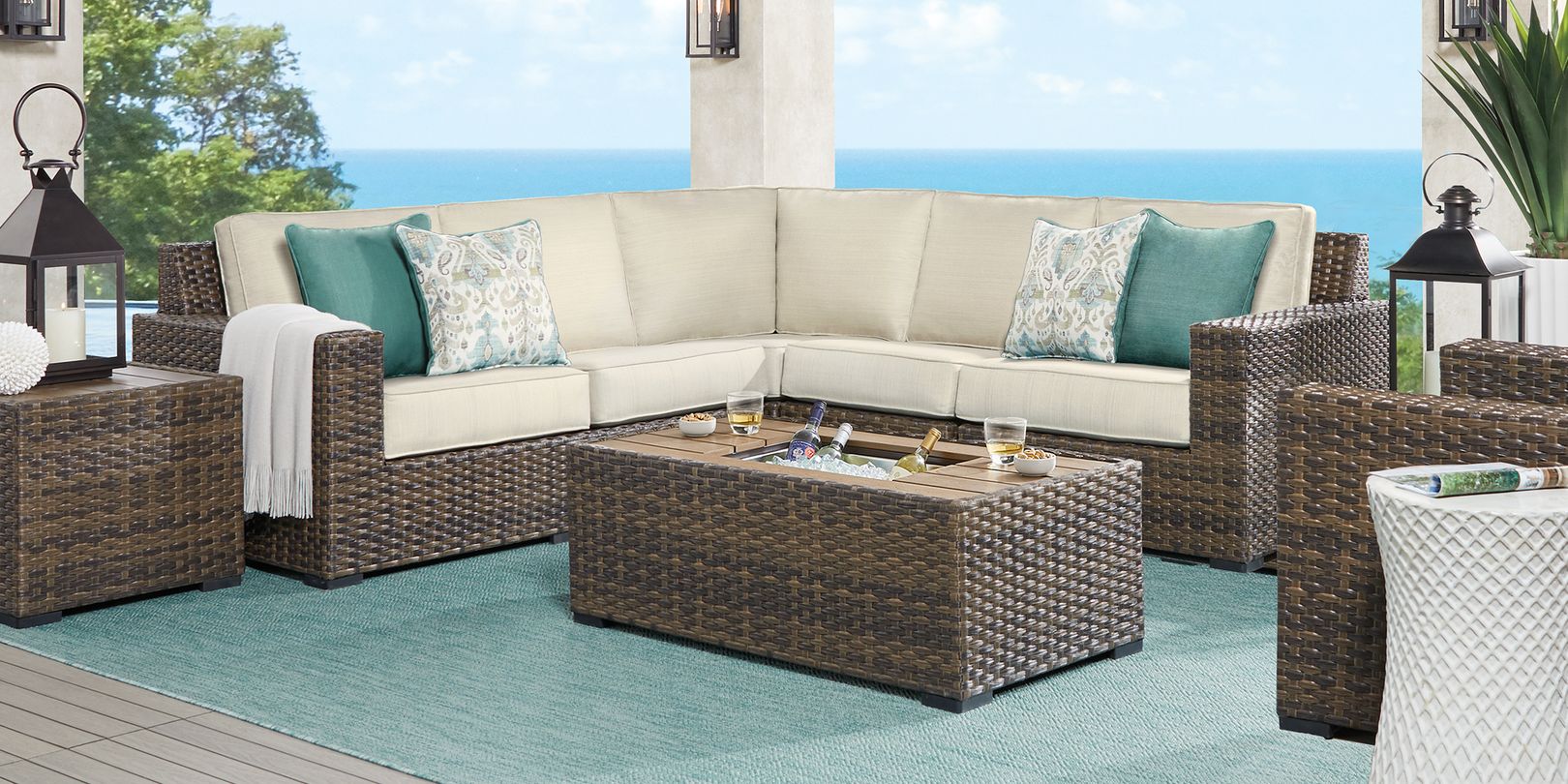 Tips for Purchasing Outdoor Decor
Whether you're adding a few accents to your current patio layout or establishing a completely new deck design, buying outdoor furniture requires a lot of planning and preparation. You need to figure out which pieces you need, what materials would work best for your style and climate and when you'll be able to find the best deals on the items you want.
Once you find the chic and comfortable patio furniture of your dreams, you'll also need to know how to test the quality of each piece and understand their maintenance requirements before you bring them home. Thankfully, the handy furniture buying tips in this article deliver practical suggestions to make this elaborate process a bit easier to manage.
Overview
This patio furniture buying guide offers helpful information for those wondering about:
Buying Patio Furniture to Suit Your Needs
Start the patio furniture buying process by deciding what items you want. Depending on how you plan to use the space, you'll need to prioritize certain furnishings over others. For instance, you should browse seating and dining sets first if you intend to host parties on your back deck. Want to create a cozy quiet time spot on the porch? Narrow your search to hammocks, porch swings or club chairs.
Once you know what outdoor furnishings to shop for, you can select specific items based on the following criteria:
Style: What type of look are you hoping to create for your outdoor oasis? Are you going for a simple modern or rustic vibe? Or, do you prefer a refreshing beach theme or a glamorous retro design? Knowing how you want to style your patio makes it easier to choose furnishings with the shapes, colorful finishes and patterns to complement your overall design.
Size: If you're working with a large terrace or courtyard, you might have plenty of room for massive 10 pc sectionals, 9 pc dining sets with extension tables and any other furniture you like. However, if you're decorating a small patio, narrow balcony, enclosed porch or another limited layout, you'll need to select space-saving furniture that keeps you from overcrowding your setup.
Quality: Along with having a stylish look, your outdoor furniture should provide stability and comfort for your space. As you browse different items for your apartment patio or back deck, prioritize patio furniture materials with strong, solid frames, ultra-plush cushions and tough, breathable fabrics.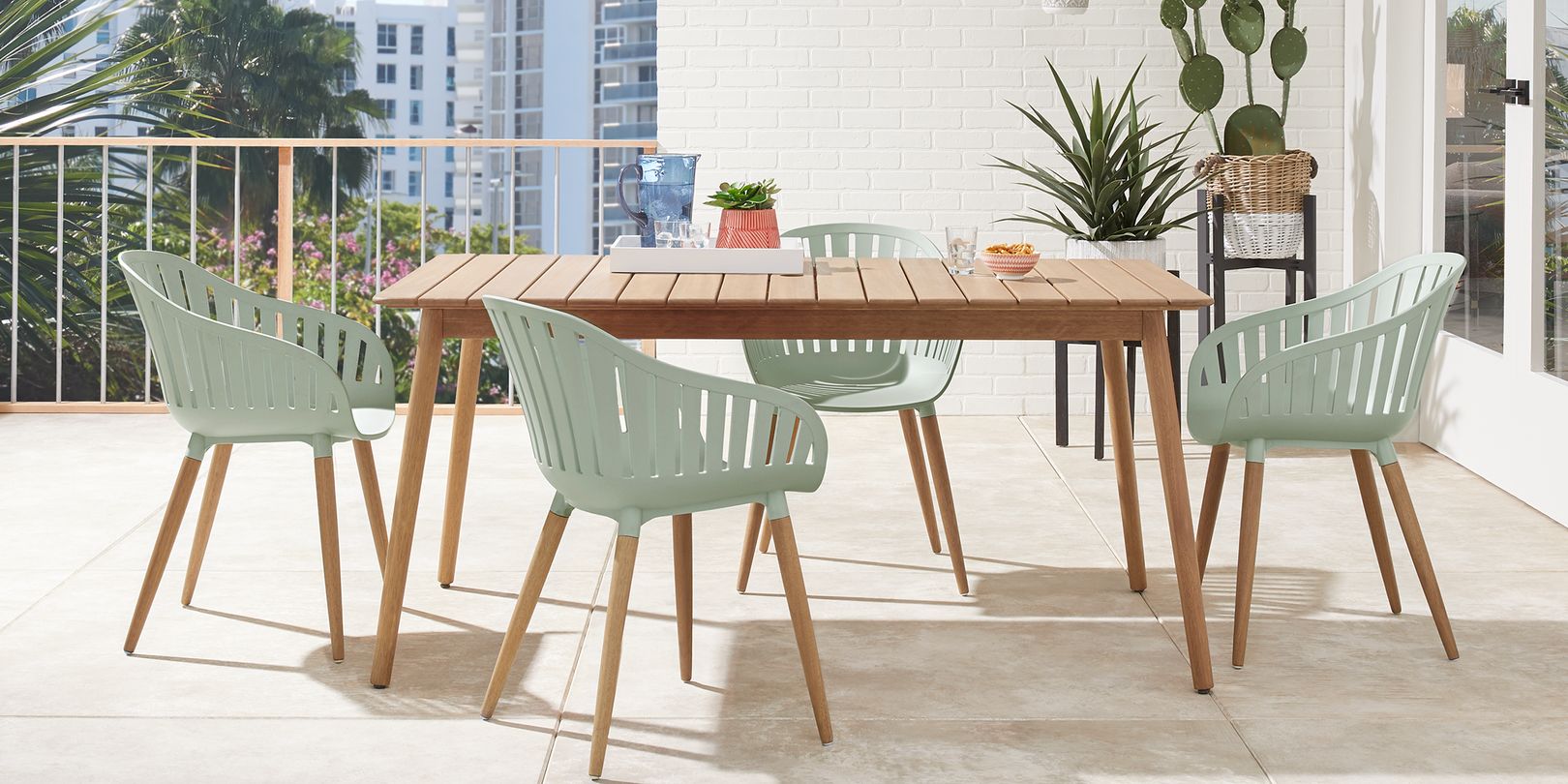 Before heading to the furniture store, consider what outdoor furnishings would best suit your space, style and quality standards.
When Is the Best Time to Buy Patio Furniture?
Rather than rush to buy new patio furniture as soon as possible, consider waiting until the off-season. Stores often hike up their prices during the summer, so the best time to buy outdoor furnishings at affordable prices is usually during fall and winter sales events. Hoping to get the jump on the latest outdoor fashion trends? Get an early start on the summer season by shopping in the spring.
Shopping during the autumn, winter and fall is a smart way to find clearance sales and markdown prices on large patio furnishings like conversation sets, daybeds and bar and bistro arrangements. If you must shop during the busy summer months, try to stick to smaller outdoor decor items such as lanterns, garden sculptures, stackable seats or plastic accent chairs.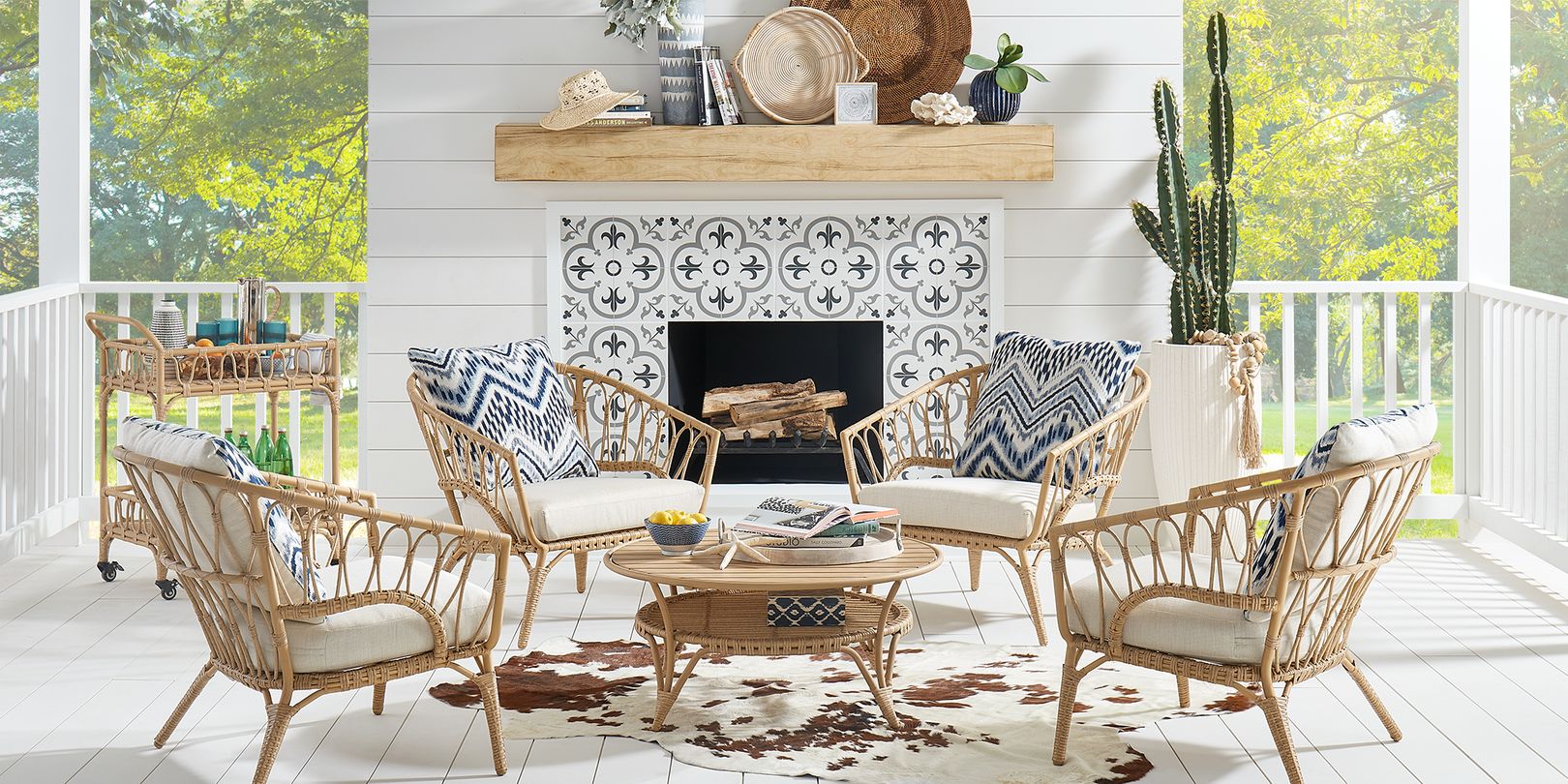 You can find markdown prices on outdoor furniture sets during autumn and winter holiday sales.
How to Check Outdoor Furniture Quality
Once you find the pieces that fulfill your needs, fit your space, suit your style and fall within your budget, you'll need to perform one final quality check before making your purchase. To learn whether your chosen furnishings meet your standards, look over and test out the following features:
Finishes: Before buying patio furniture, check for chipped or faded paint, rust, frayed edges and scuff marks. Steer clear of outdoor pieces with damaged wicker, metal or wooden finishes. Or, at the very least, see if you can negotiate a lower price for items showing signs of wear and tear.
Frames: Sit down on patio sofas, sectionals and dining chairs to ensure that the frames can support your body weight. To test dining sets, pull up a chair to check whether the dining bench, chair seat and table are the right heights.
Fabric and Cushioning: Make sure the upholstery is free of any runs, tears or worn patches of material. Also, test out padded pieces to see whether they'll keep you cozy during long hours of lounging under the sun. Seat cushions, in particular, should be soft enough to sink into yet springy enough to bounce back to their original fluffy shape.
Moving Parts: If you're planning to buy an outdoor recliner, rocker, glider or swivel chair, you'll need to make sure the mechanical components are in working order. Completely extend the reclining chairs and loveseats to gauge their full range of motion and test the reclining and swivel features on your seats before you purchase them.
If you're shopping online, look at the reviews of people who've purchased the same furnishings you want and see what they have to say about the quality of each item. It might also be a smart idea to check the dimensions listed in the product description and compare them against a piece of furniture you already own. That way, you can make sure the item will fit within your space before buying it.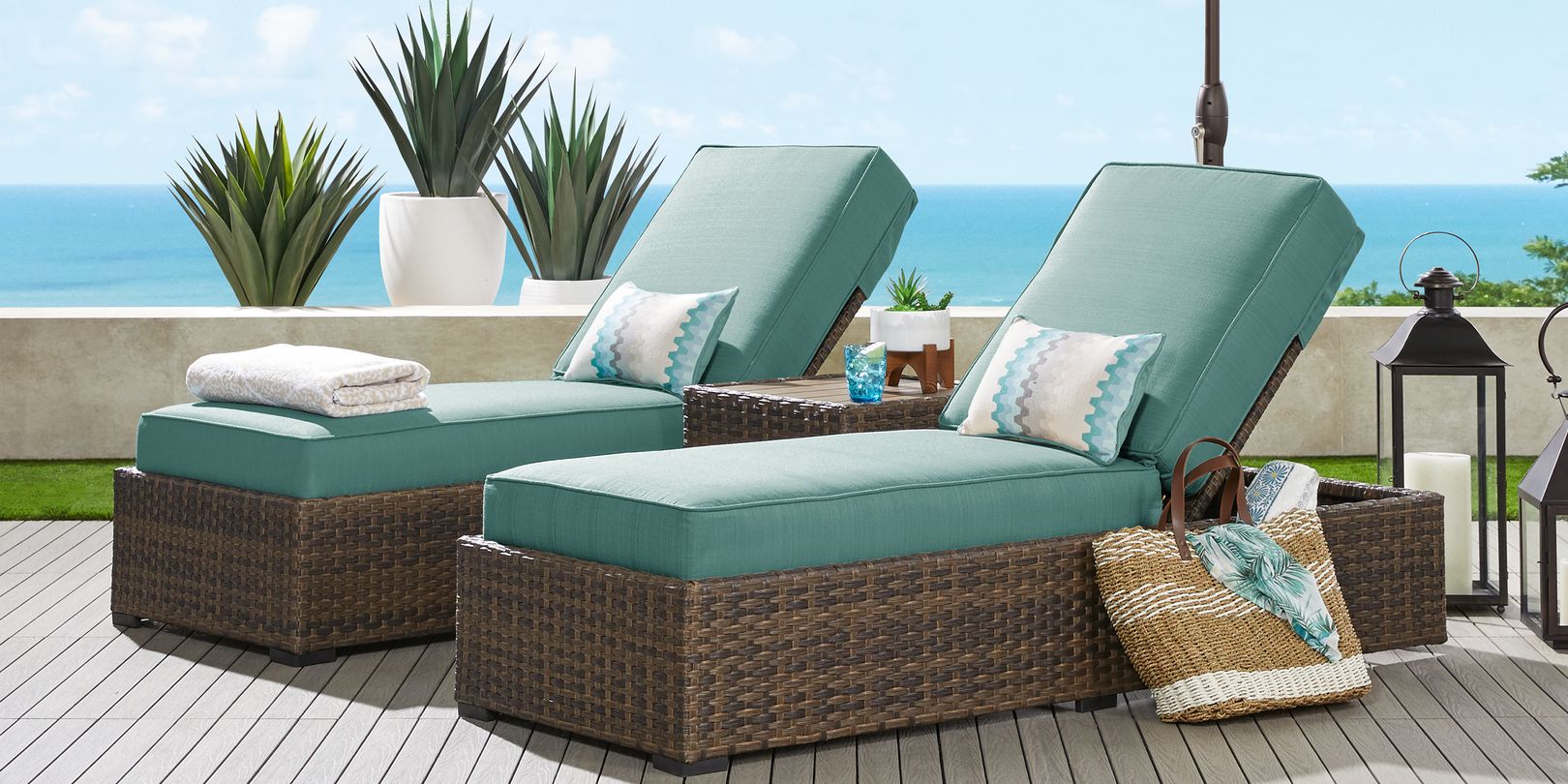 Quality checks help ensure that the patio furniture you buy meets your comfort, style, and stability standards.
Additional Patio Furniture Buying Tips
Purchasing protection plans and protective accessories is the last step in the patio furniture buying process. While you may think it's okay to skip this step, furniture covers, cleaners and sealants can help your outdoor decor stay sturdy and beautiful over time. Meanwhile, having a warranty in place gives you an extra safety net if your furniture ever needs replacement or expensive repairs.
When you buy new patio furniture, protect your investment by purchasing protective covers and cleaners as well.
Now that you know the necessary steps for buying patio furniture, it's time to start shopping! Keep the tips from this patio furniture buying guide in mind as you browse online or at brick-and-mortar retailers, and you should have an easy time finding and bringing home the perfect outdoor furnishings for you.