Outfitting Your Backyard Pool House
If you have a swimming pool, adding an outbuilding or cabana boosts your home's curb appeal while expanding your seating, dining, entertaining and storage options. Whether it's a permanent structure or a temporary summer setup, the type of pool house you have will help you determine how best to decorate your backyard getaway.
This post covers a range of pool house topics, including:
What Do People Use Pool Houses For?
Some pool houses mimic your home's architecture, while others bring upscale beach resort or tropical vibes to poolside spaces. Whether custom or prefabricated, these outbuildings typically have solid walls that offer more privacy, making them ideal for changing after a swim or quiet, peaceful solitude after a long day at the office.
Depending on their construction and utility hookups, some pool house layouts include amenities like showers and electric outlets or have a small kitchenette with a range and sink for outdoor dining. Most pool houses include both indoor and outdoor areas, and larger structures often feature rooms for overnight guests.
While it's easy to focus on pool house interior ideas, factor the building's patio spaces into your design to optimize your furniture layout.
How Do You Organize a Pool House?
To simplify the process of organizing your pool house and arranging your decor, keep your family's storage, entertainment and outdoor dining needs in mind. Ask yourself some questions about your pool house plans:
Do you want to use your pool house as a private retreat or a place to share with others?
Will you need to secure your poolside furniture in fall or winter?
Do you need a place to store pool chemicals, tools and toys?
Are you planning lavish weekend parties with out-of-town guests?
Or, do you prefer intimate gatherings with a few close friends?
Do your legendary grilling skills bring all your friends and neighbors to your house?
Will you be hosting family celebrations and holiday gatherings?
Defining your entertainment goals helps you figure out the amount of seating and pool house furniture you'll need to accommodate your guests.
Once you determine your priorities, look for ways to optimize your pool house's layout to meet all your needs. Before exploring different pool house decorating ideas, start with appliances that need to connect with utilities. Also, consider modifications, like sturdy shelving for pool chemicals or shower installation, before shopping for pool house furniture.
What Do You Put in a Pool House?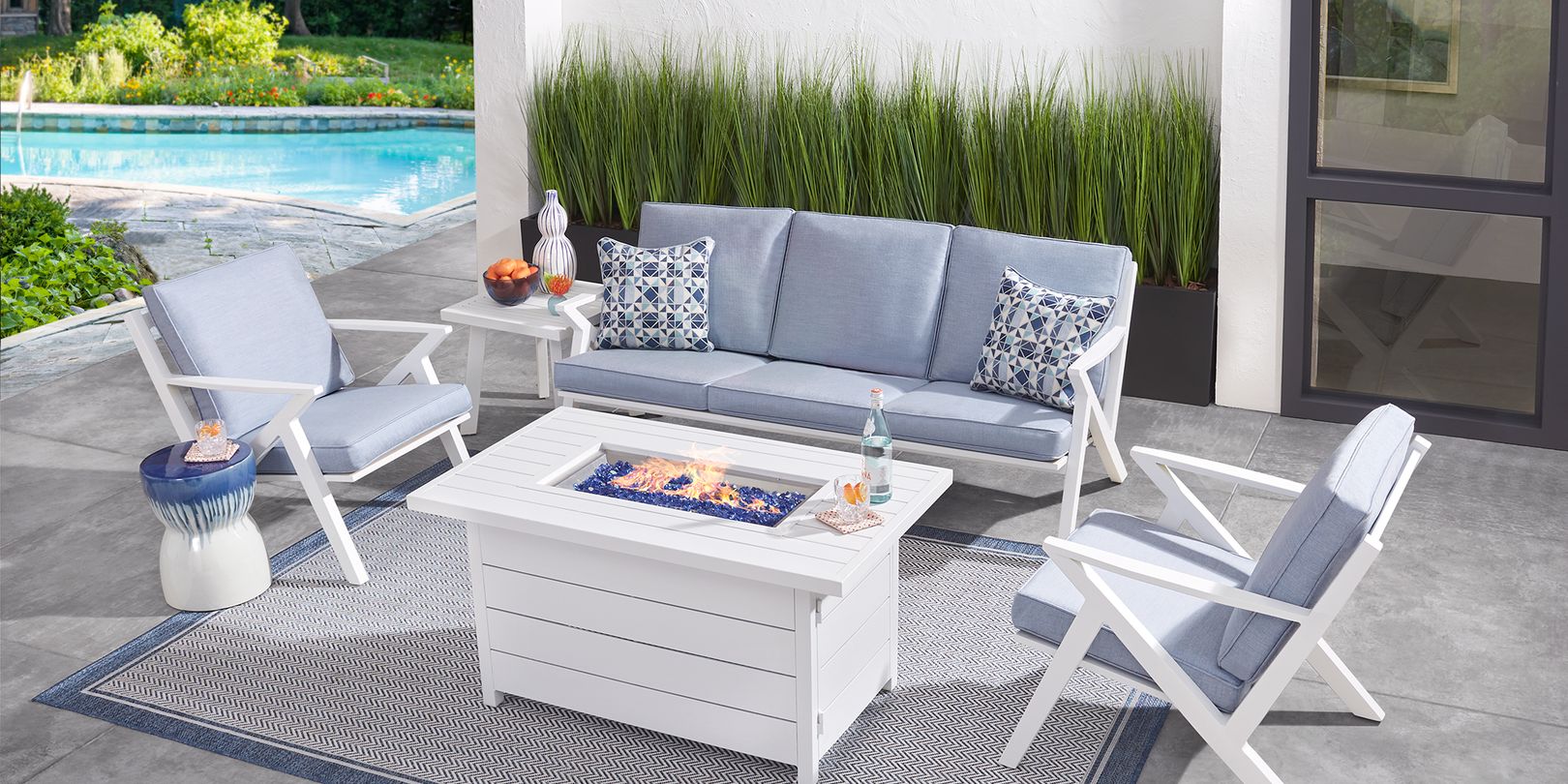 Certain accessories, like an outdoor fire pit, take some of the guesswork out of planning interior vs. exterior pool house layouts.
When choosing pool house furniture and amenities, your only real limitations are the structure itself and the utilities you can access. Consider the following pool house decorating ideas to inspire your design:
Cabana vs. Pool House
Cabanas are three-sided or open-air structures with an angled roof supported by columns. However, many people use this term interchangeably with pool house. Both offer shelter for swimmers and guests, but the simple construction and breezy, resort-like feel of a cabana appeals to many homeowners.
Semi-permanent structures like canopies with sidewalls are a budget-friendly cabana option. Gazebos are another common alternative, and pergolas, with a few modifications, can also serve a similar purpose. If your cabana is strictly seasonal, make sure the furniture you choose is easy to move and store when you close the pool for the summer.
What Do You Put in a Pool Cabana?
The furnishings you can use in your cabana work well in larger outbuildings or on shady outdoor pool house patios, too. To create the perfect mood, coordinate your furniture and accents with the open, airy look and feel of the space. Also, add lanterns or a hanging pendants to keep the party going long after sunset.
Your pool cabana furniture should complement the structure's breezy, carefree vibes.
Choose a theme for your cabana based on its structure and the purpose of the space, and take care when choosing outdoor materials, as your accents and furnishings will be exposed to the elements. Consider the following pool house decor styles to create a cohesive motif for your outdoor getaway:
Whether you're outfitting an expansive pool house or setting up a cozy cabana, prioritize your storage, seating, dining and entertainment needs when planning your layout. Matching your lifestyle with your pool house design ensures you'll have everything you need for staycations full of swimming, relaxation and fun right in your own backyard.