What Every Beach House Should Have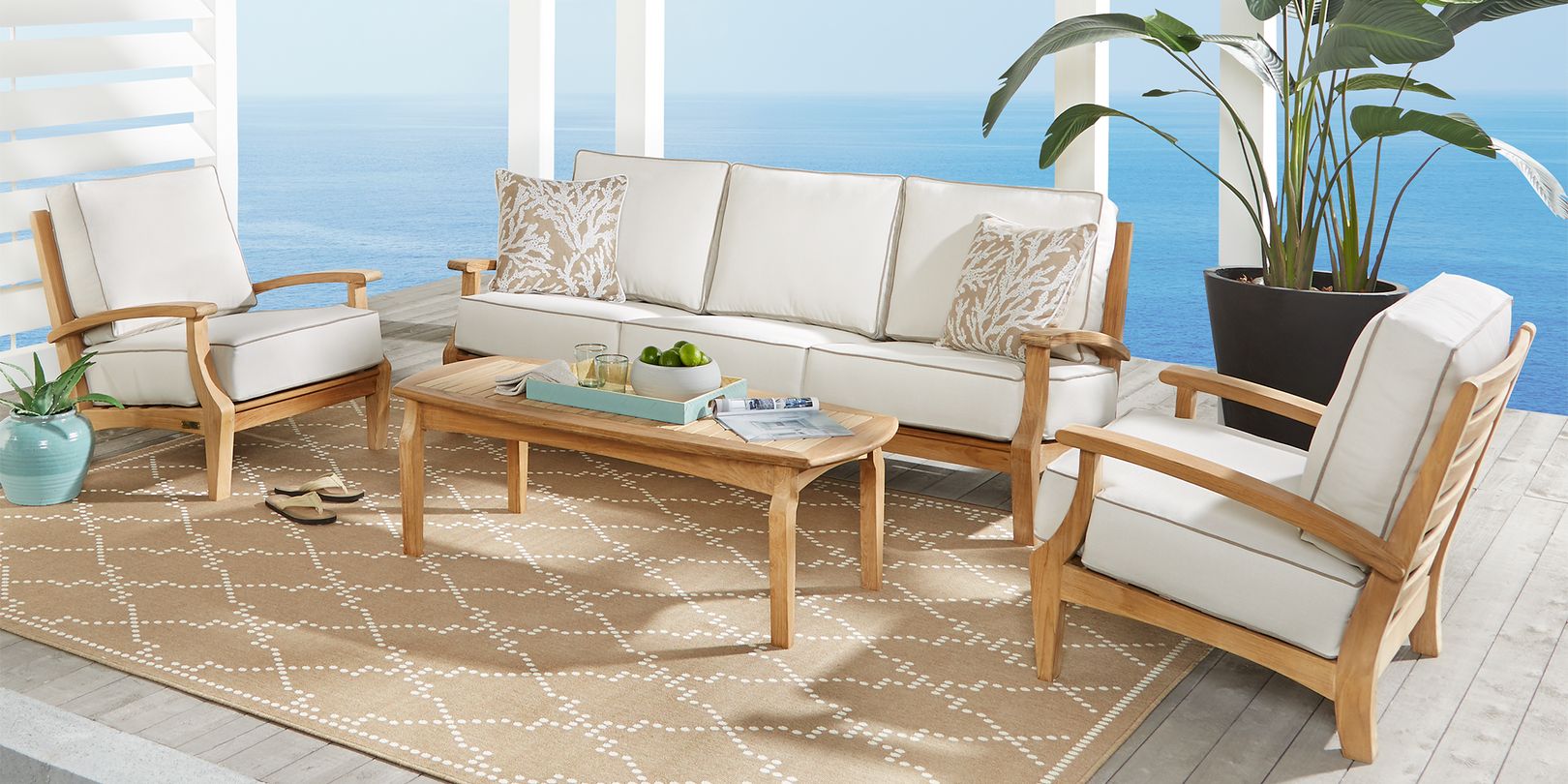 Your beach house is an escape from the hustle and bustle of everyday life, and your furnishings should welcome you with carefree vacation vibes. Whether your ideal beach house stay includes lazy lounging in the living room or hosting barbeques for friends and family, the furniture and accents you choose set the stage for relaxation, good times and fond memories.
Overview
In this blog, we'll share our beach house furniture ideas for the main areas in your beach house, including:
Start with Style
When brainstorming beach house furniture ideas, consider the theme you want for your interiors. Contemporary, modern and rustic furnishings are always popular. However, if you want beach home decor that puts you into vacation mode as soon as you step through the door, think about the following styles:
Coastal: This design theme is all about capturing tranquil summer holiday vibes. Think ocean-inspired color palettes of sky blue, sandy beige and cloud white along with rattan seating or teak coastal beach house decor and furniture to create this chic yet casual motif.
Tropical: Transform your beach house into a tropical paradise with pink, teal and green decor among dark wood furniture. Or, opt for a minimalist approach by combining ivory walls and accents with wicker beach house style furniture and planters filled with real palm trees or faux ferns.
Nautical: Nautical themes favor light neutral hues, ocean blues and natural textures. However, seafaring accents such as anchors, nautical stars and ship's wheels are the hallmarks of nautical beach house decor.
Whether you go with a classic style, create a modern farmhouse look, or take inspiration from boho design or outdoor beach decor, settling on a decorative theme will narrow down your beach house furniture ideas as you outfit each part of your seaside home.
Nautical decor brings the look and feel of a ship at sea to your beach home decor.
Create a Warm Welcome with Beach House Porch Furniture
Your porch is your guests' first impression when visiting your beach home, so you'll want to establish a carefree holiday mood right from the start. Invite visitors to slow down and take in the view on a cozy porch swing or bench. Or, arrange a few tan or teal coastal Adirondack chairs and a small side table to kick off your vacation with a cool drink at sunset.
If your beach house porch has enough space, consider a freestanding hammock for maximum relaxation on balmy beach days. In addition to becoming your new favorite spot for long naps and light reading, hammocks coordinate easily with coastal, nautical and tropical motifs while adding charm and character to your porch.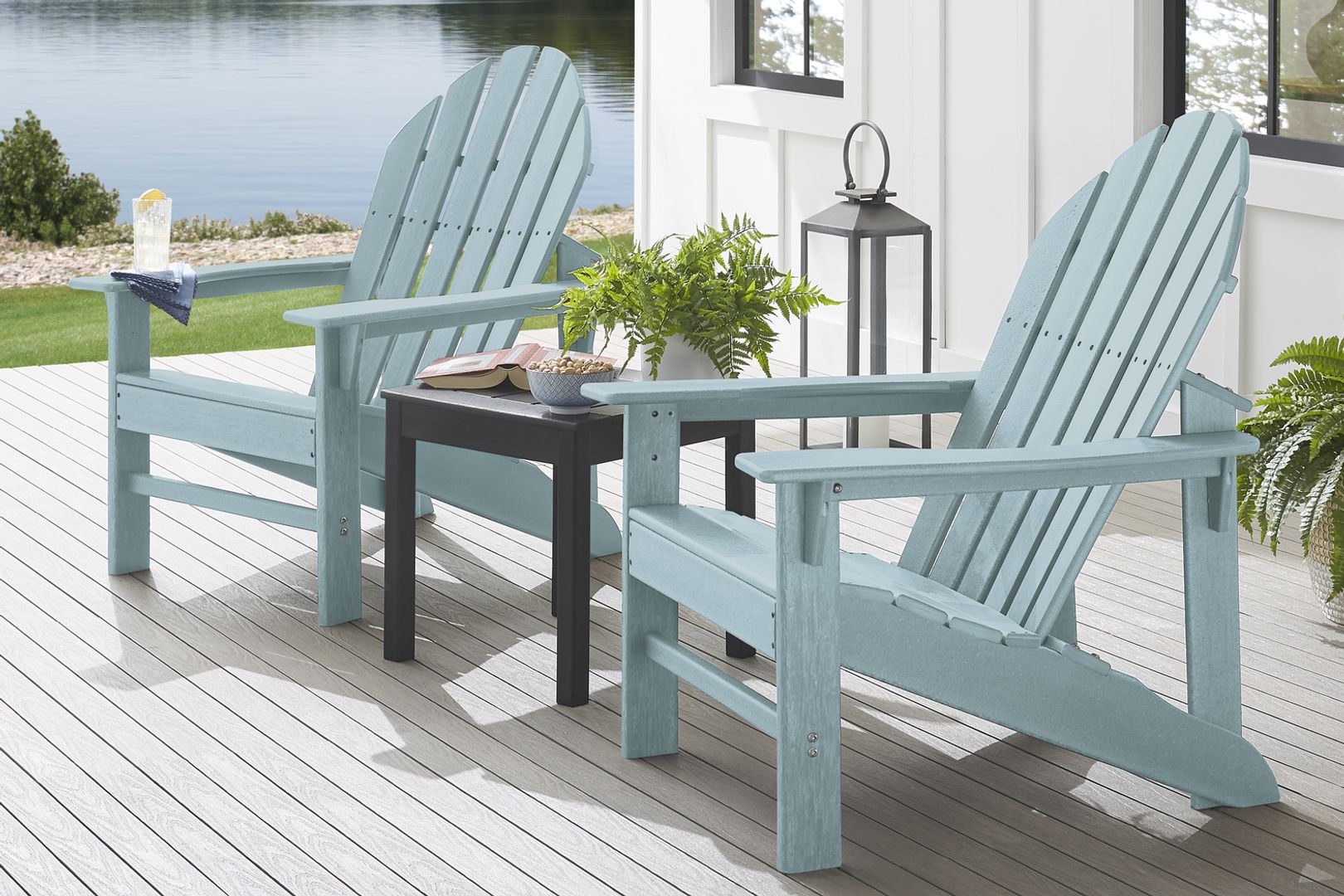 Choose Adirondack chairs in refreshing hues like sky blue for a laid-back coastal look.
Convenient Beach House Foyer Ideas
A convenient entryway storage bench provides guests with comfy seats as they remove shoes and stow them below. A teak console table with a distressed white or aquamarine finish is another stylish, practical accent that gives you and your guests a place to secure keys, wallets and other daily essentials.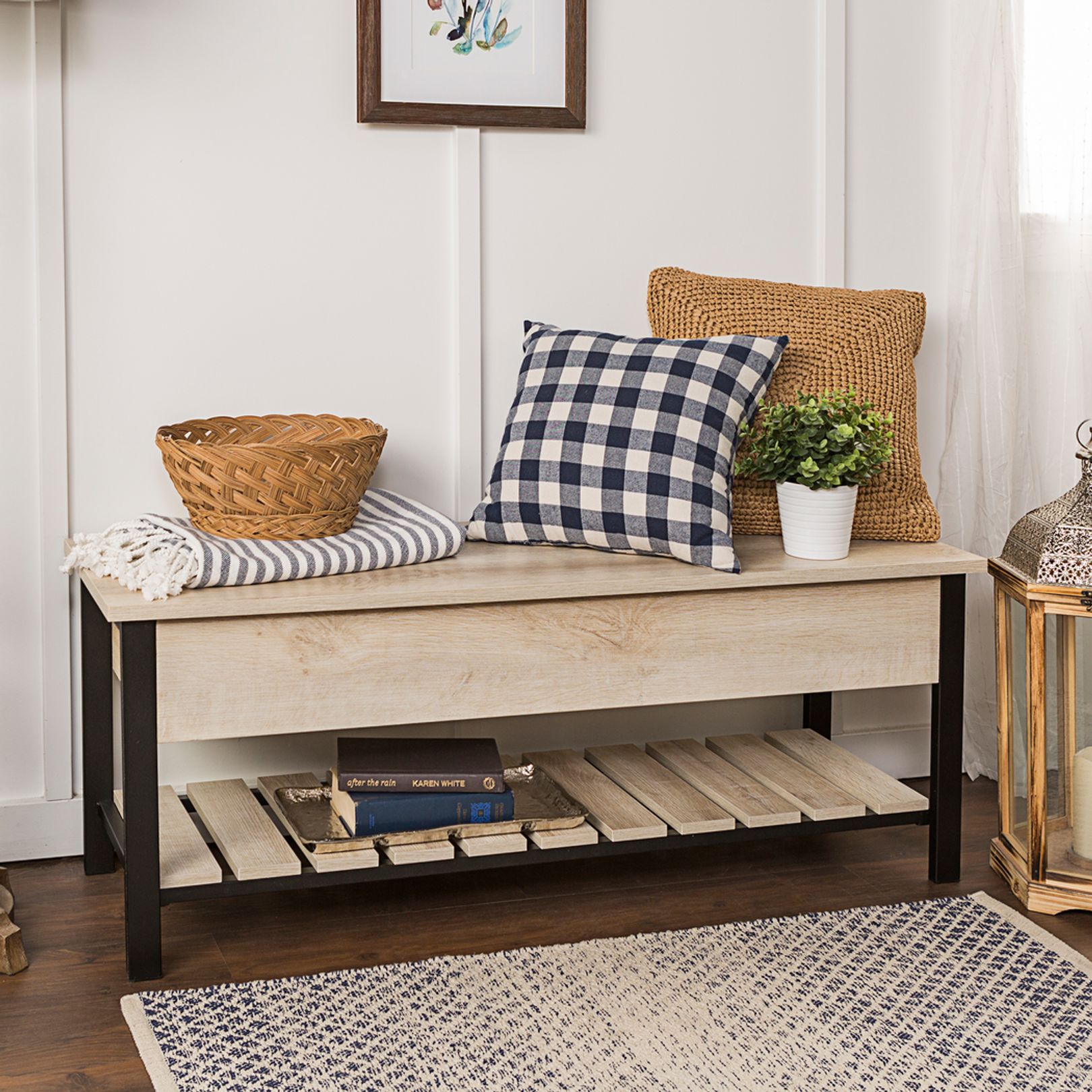 Ideal for storage or as a fashionable accent, a beachy entryway bench is right at home in your summer getaway.
Dining Room Layouts for Your Beach House
After a day of fun in the sun, cooling off with drinks and a good meal helps you refresh and recharge. If you have room to spare, choose a beach house dining table and chairs with plenty of seating for guests, such as a spacious coastal dining table with a plank-style top. However, in dining rooms where space is at a premium, a small teak bistro set might be a better fit.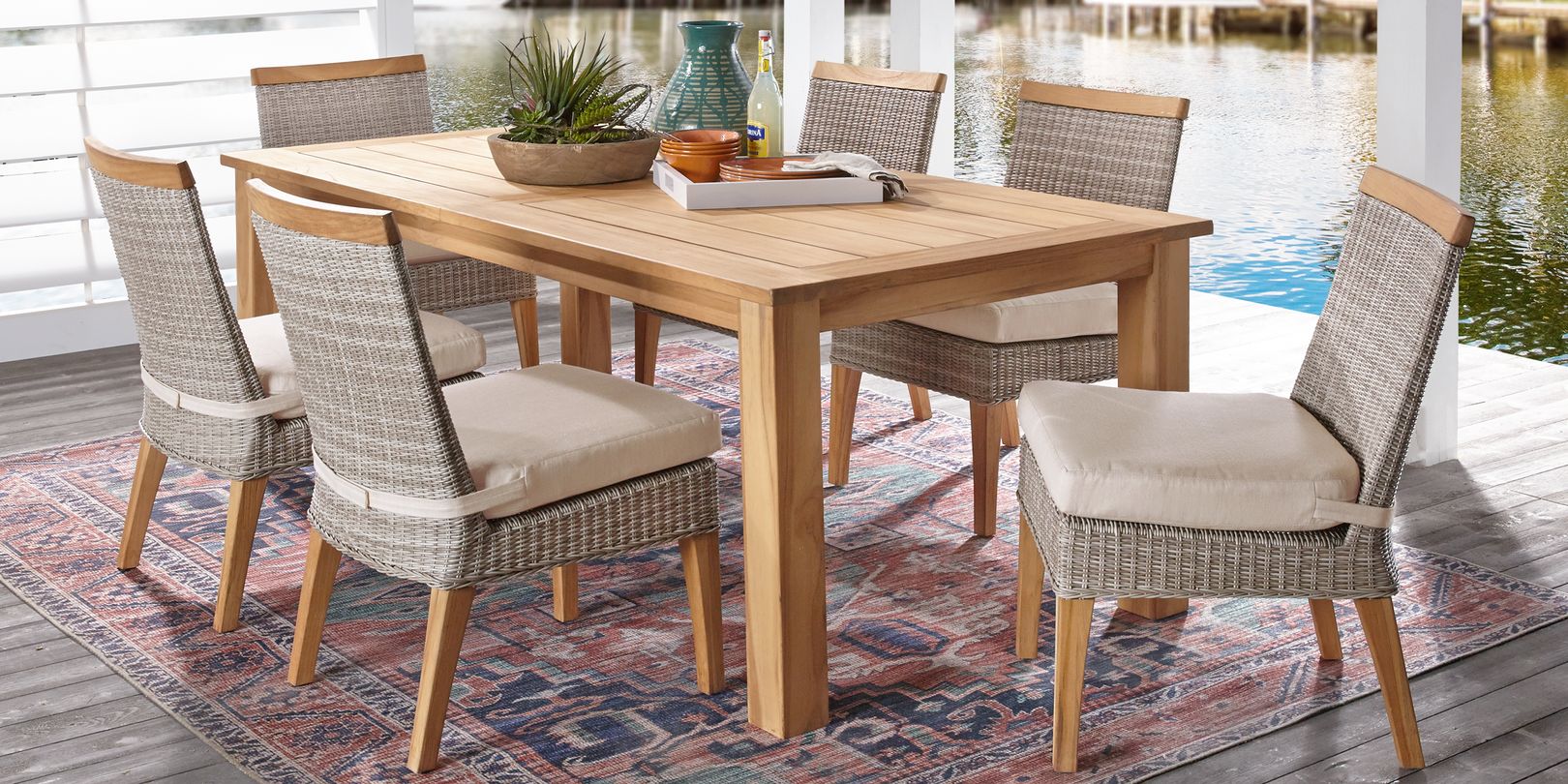 Teak dining sets boasting light wood finishes and plank-style surfaces are a classic choice for beach houses.
Lounging Options for Beach House Living Rooms
Select furniture for your beach house living room based on your color palette and theme, as well as the seating needed for family and visitors. A full seating set in your favorite style and hue is an easy, affordable way to get a look you'll love. These collections typically include a sofa or loveseat, arm chairs and a coffee table, making sets a convenient option when outfitting your beach house living room.
Prefer a more personal touch? Piece your look together using individual furnishings. This approach takes a bit more time, but you can experiment with different options until you find the right layout. For example, if you adore the beachy vibes of a driftwood gray coffee table, try pairing it with a sleek snow-white sofa or sectional and accent pillows featuring palm tree patterns.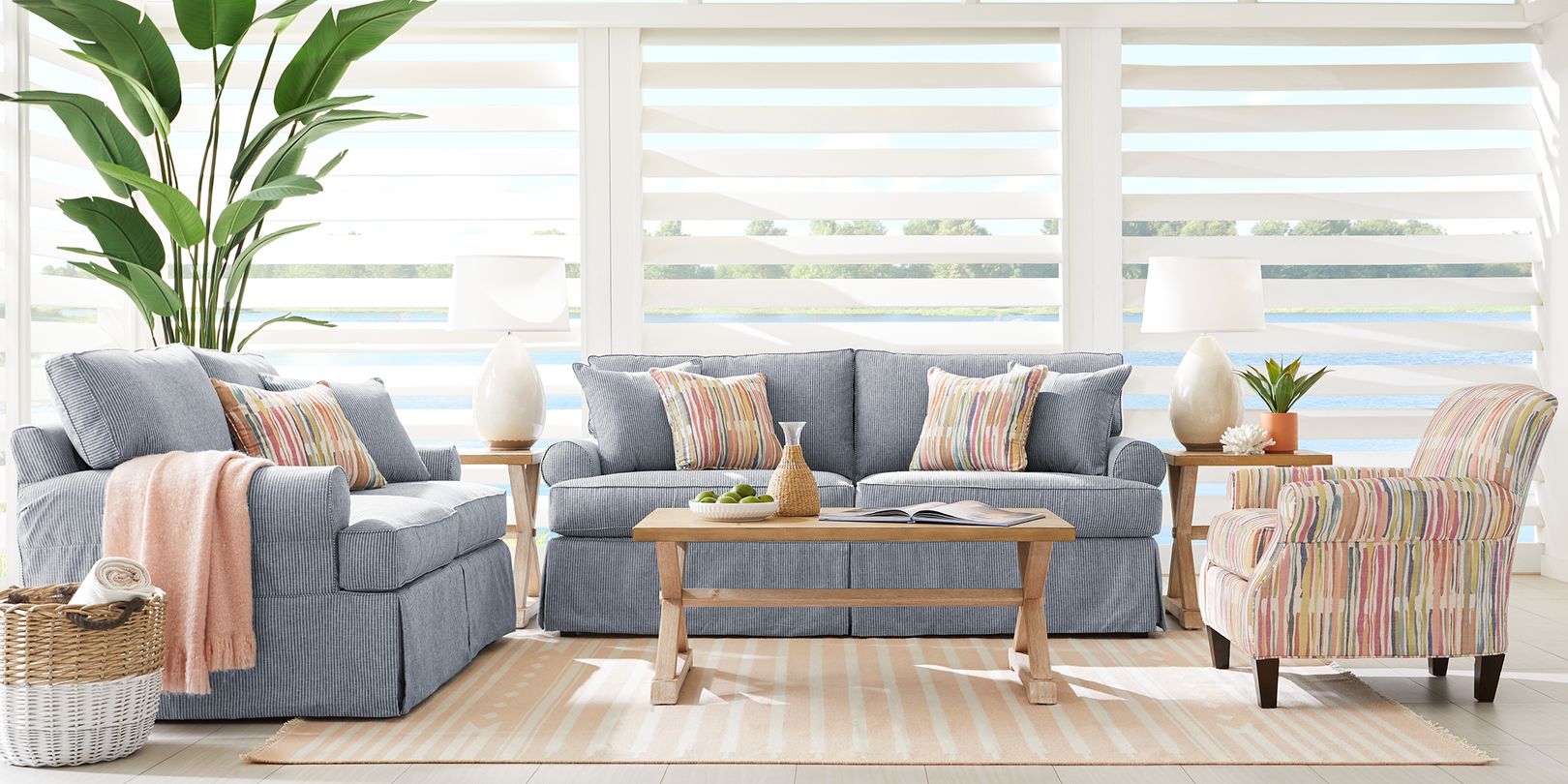 A cozy living room collection in light blue denim delivers both relaxation and charm.
Beach House Decor for a Cohesive Design
The last step in designing your beach house is adding your favorite decorative touches. From mounting a key shelf with nautical hooks next to the front door to displaying your favorite seaside souvenirs on a turquoise console table, charming beach house decor lets you customize the look and mood of your personal getaway.
Rugs
Whether it's a nautical rug featuring a ship's wheel and anchors, or a striped rug with alternating blue and white lines, these accents boost your theme and complete your layout. Add a spacious 8×11 rug beneath your beach house dining table for some extra comfort. For small spaces like a guest room or kid's bedroom, use a compact 5×7 rug in bold red and deep orange hues for a bohemian vibe.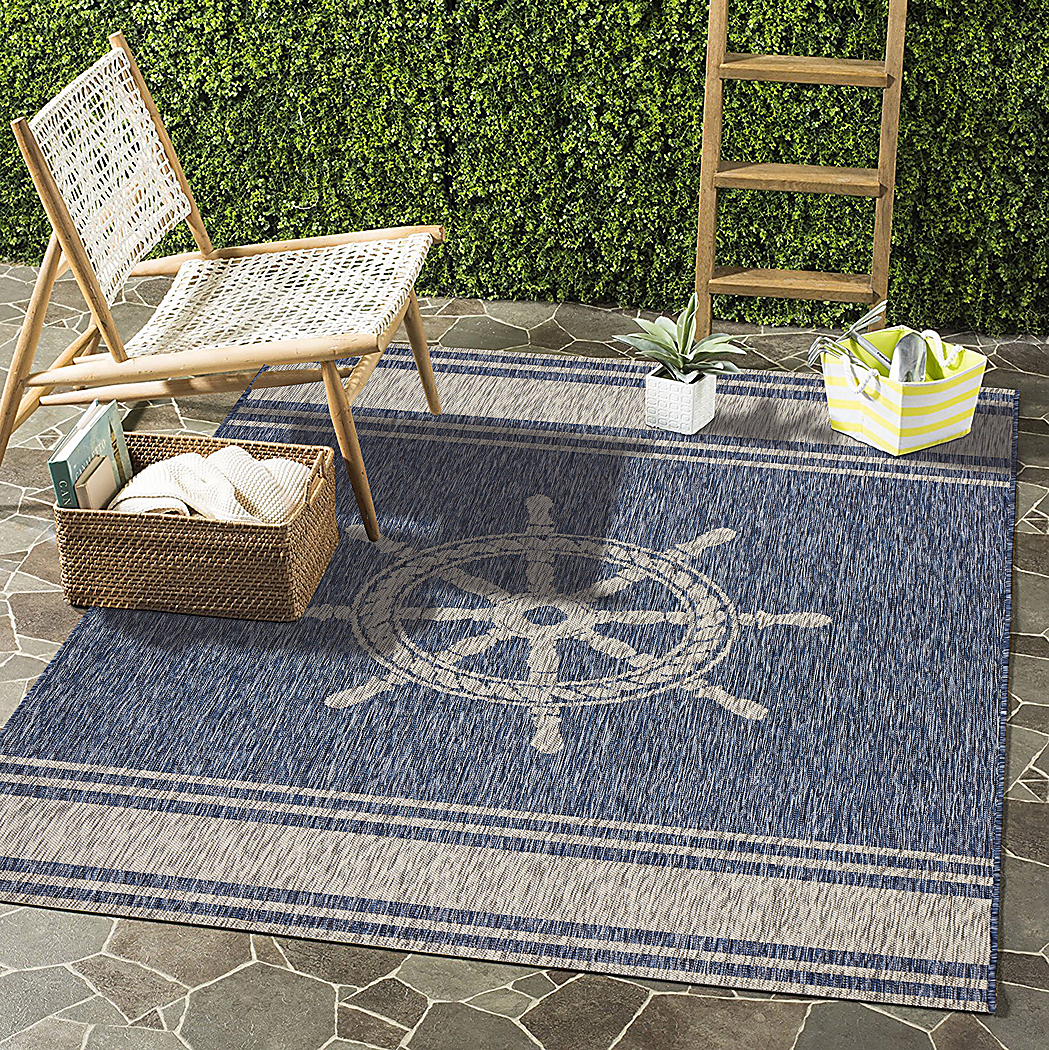 Set the foundation for your seafaring style using comfy rugs with nautical prints.
Themed Wall Decor
Show off your love of the ocean with wall art featuring seahorses, starfish and other aquatic creatures. Or opt for more abstract beach wall art with white and blue motifs that evoke shorelines and clear blue water. From metal wall hangings to sculpted pieces, these accents bring fun images and textures to your beach home.
Lighting Your Layout
Make lighting part of your beach home decor with accessories that give your layouts a warm, welcoming glow. Consider floor lamps for the living room or center a chandelier above your beach house dining table. Bronze pendant lighting complements coastal designs, while whimsical lamps on wood or wicker side tables are the perfect companions for nautical bedrooms.
Whether you use a classic beach house decor theme or create a contemporary coastal mashup, your beach home furniture should evoke vacation vibes and invite you to lounge and relax from the moment you arrive. Consider several beach house decor styles, make the task even easier with furniture sets, and bring in accents to develop a cohesive theme for your seaside home away from home.