Patio Furniture Maintenance
When it comes to buying patio furniture, smart shoppers know that the best pieces are the ones with fabrics and materials that can withstand extensive use and exposure to the elements. However, even if you bring home items with the toughest materials you can find, you'll still need to use proper care and maintenance techniques to help them maintain their solid structure and stunning look.
Overview
In this post, you'll find some practical tips on:
Proper patio furniture maintenance can protect your outdoor design from stains, spills and the elements.
Tools for Cleaning Patio Furniture
Step one in practicing proper outdoor furniture maintenance is ensuring you have the proper cleaning and care supplies. Whether you're dealing with a small spill on your patio table or tackling larger scuffs and stains on your conversation set, you'll need to keep the following tools on hand.
Using the right cleaning tools is essential for removing rust, stains and scuffs from your patio furniture.
Every-Day Care Tips
One of the most effective ways to take care of your patio furniture is to clean up messes as soon as they happen, preventing moisture and stains from setting in and damaging the frame and upholstery. Wipe up food and drink spills and brush off crumbs after everyone gets up from the dining table. Also, attend to any dents, paint chips and scuff marks you notice while enjoying your patio.
For good measure, make weekly cleanup part of your patio maintenance routine. Wipe down your bar, bistro, coffee, and side table surfaces. Vacuum between the seat cushions and machine or hand wash your outdoor pillows according to the instructions on the label. You can also sweep, clean and dry your outdoor rugs to refresh your patio layout for the following week.
Use basic housekeeping practices to tidy up your patio layout each week.
Seasonal Outdoor Furniture Maintenance
Throughout the year, your outdoor furnishings will require different types of cleaning and care. By following a regimen of seasonal maintenance practices, you can lessen the effects of wear and tear on your patio furnishings. Use these tips to perform proper outdoor furniture care during the summer, autumn, winter, and spring.
Summer
People tend to spend the most time on their patios during the summer months, so frequent cleanings are a must if you want to get rid of sunscreen residue and barbecue and cocktail spills. UV rays can also affect your plastic and aluminum pieces, so you'll need to use umbrellas and other types of shade to keep your furniture finishes from fading and prevent your setup from overheating.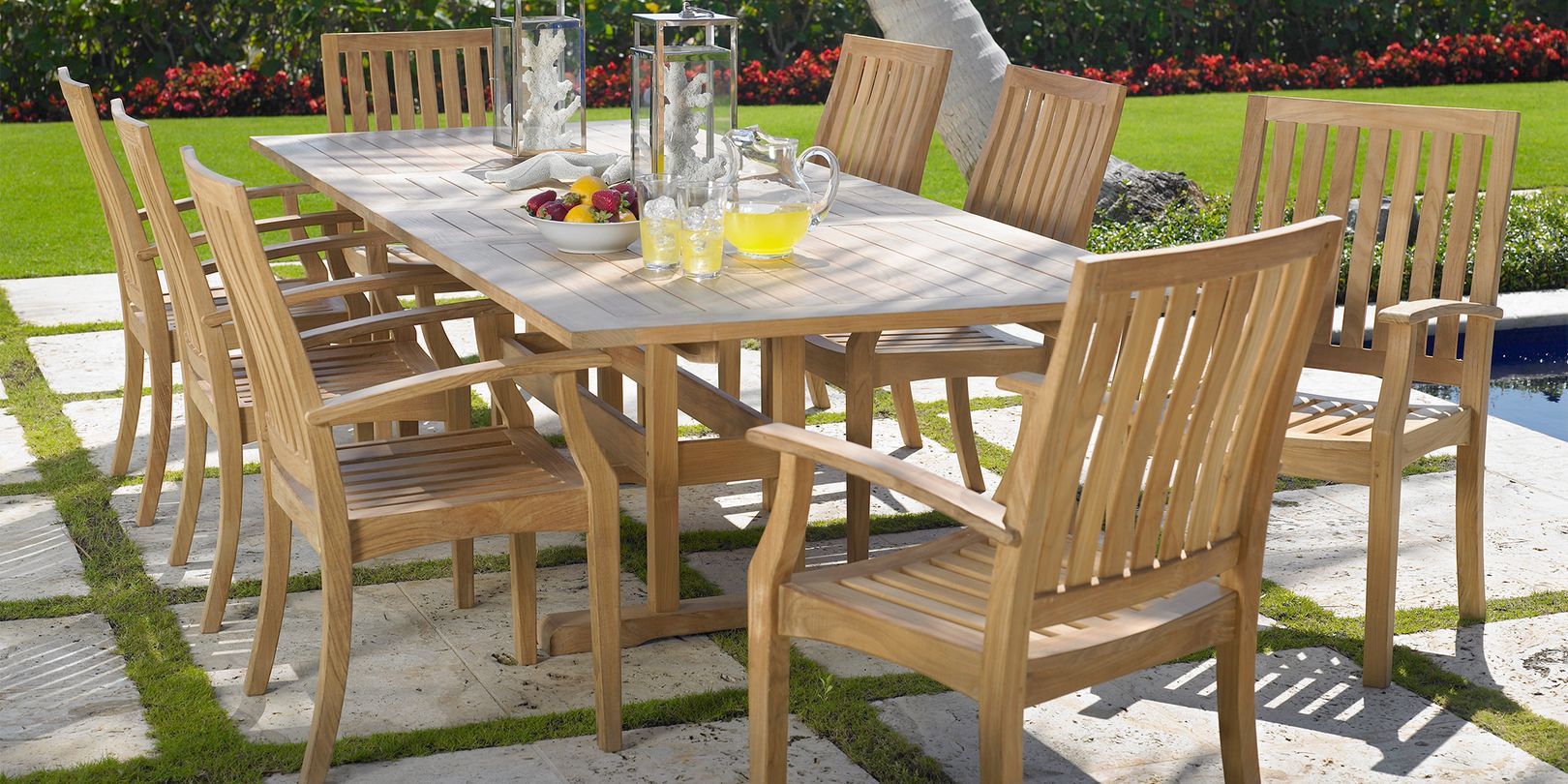 In the summertime, it's important to protect your outdoor furniture from harsh sunlight and clean your furnishings after each use.
Autumn
You can also use your patio in the fall, especially if you have a fire pit to keep you warm on chilly days outdoors. However, you may need to cover your furniture more often to shield it from rain, frost and snow showers. Perform safety checks on your gas or wood-burning fire pit to prevent accidental fires and use wind blockers to keep the autumn breeze from knocking over your furnishings.
Depending on where you live, you'll need to use covers to protect your patio furniture from chilly weather.
Winter
Some people choose to keep their patio furniture set up throughout the winter. If you choose to go this route, you'll need to winterize your outdoor furnishings by cleaning, sealing and covering your furniture to keep moisture from rain and snow from soaking into the frames. Also, place decorative accents like throw pillows and sculptures in storage bins until you're ready to use your patio again.
If you live in a warmer climate, you can stick to a regular cleaning schedule and use your patio furniture throughout the winter.
Spring
In the spring, you can take the covers off your patio set and get it ready for outdoor lunches and get-togethers. Check your seats and tables to see if any birds or rodents have built nests in the cubbies and cushions, then clean and sanitize your furniture. If you like, you can refinish your outdoor furnishings to restore their rich, vibrant sheen.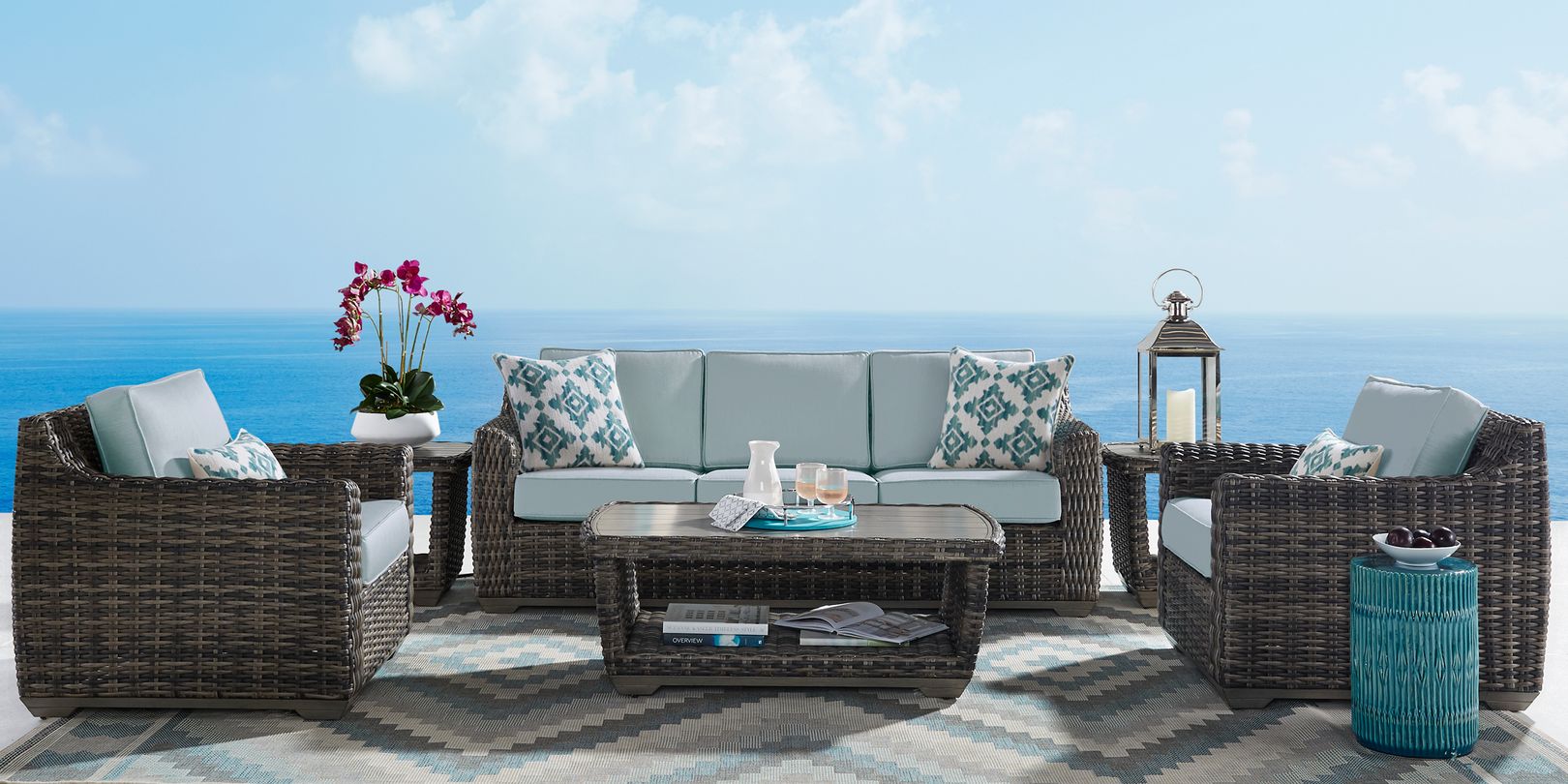 Make your patio part of your spring cleaning routine to prepare your outdoor setup for warmer weather.
Off-Season Storage For Patio Furniture
If you have enough room, consider storing your patio furnishings inside your garage or in a backyard shed. While furniture covers may provide ample protection for some outdoor items, putting them indoors ensures that they sustain less damage from the elements. Those who lack a garage or shed can stow their furnishings in the basement until the new season starts.
If outdoor storage is your only option, use tight, fitted covers to keep your patio furniture protected.
Maintaining your outdoor furniture throughout the year can have some incredible benefits. Completing regular cleaning and maintenance tasks lets you reduce the effects of wear and tear, moisture and harsh sunlight to help keep damages like fading, rust and mildew at bay. Use the furniture care tips in this guide to ensure that your outdoor setup stays beautiful and comfy in every season.