How to Create a Pet-Friendly Outdoor Space
Pet parents with patios naturally want to spend time with their favorite canine or feline companions outside. However, several factors come into play when making your rental property or home's outdoor spaces comfortable for both people and pets. From roomy backyard decks to small patios and balconies, there are cat and dog-friendly outdoor furniture layouts for any situation.
This article includes information about:
Do Dogs Need Outdoor Space?
All dogs need exercise and stimulation to stay healthy and keep boredom at bay. Frequent daily walks are necessary to keep apartment dwellers' companions happy and entertained. As long as your dog gets plenty of exercise, small outdoor spaces allow pups and their people a chance to relax on a couch, chaise lounge or club chair and enjoy good weather and fresh air.
Age, breed and energy levels all factor into the amount of outdoor space dogs need.
Your pet's breed and energy levels can help you determine how much time and space they need outdoors. Yorkies and Chihuahuas, for example, have a lot of energy to burn, but their tiny frames mean small pet-friendly patios are perfectly fine. Border collies and huskies, on the other hand, need room to run off their boundless energy, which means larger yards or longer hikes are ideal.
Outdoor Pet Care Essentials
How Can I Make my Patio Dog Friendly?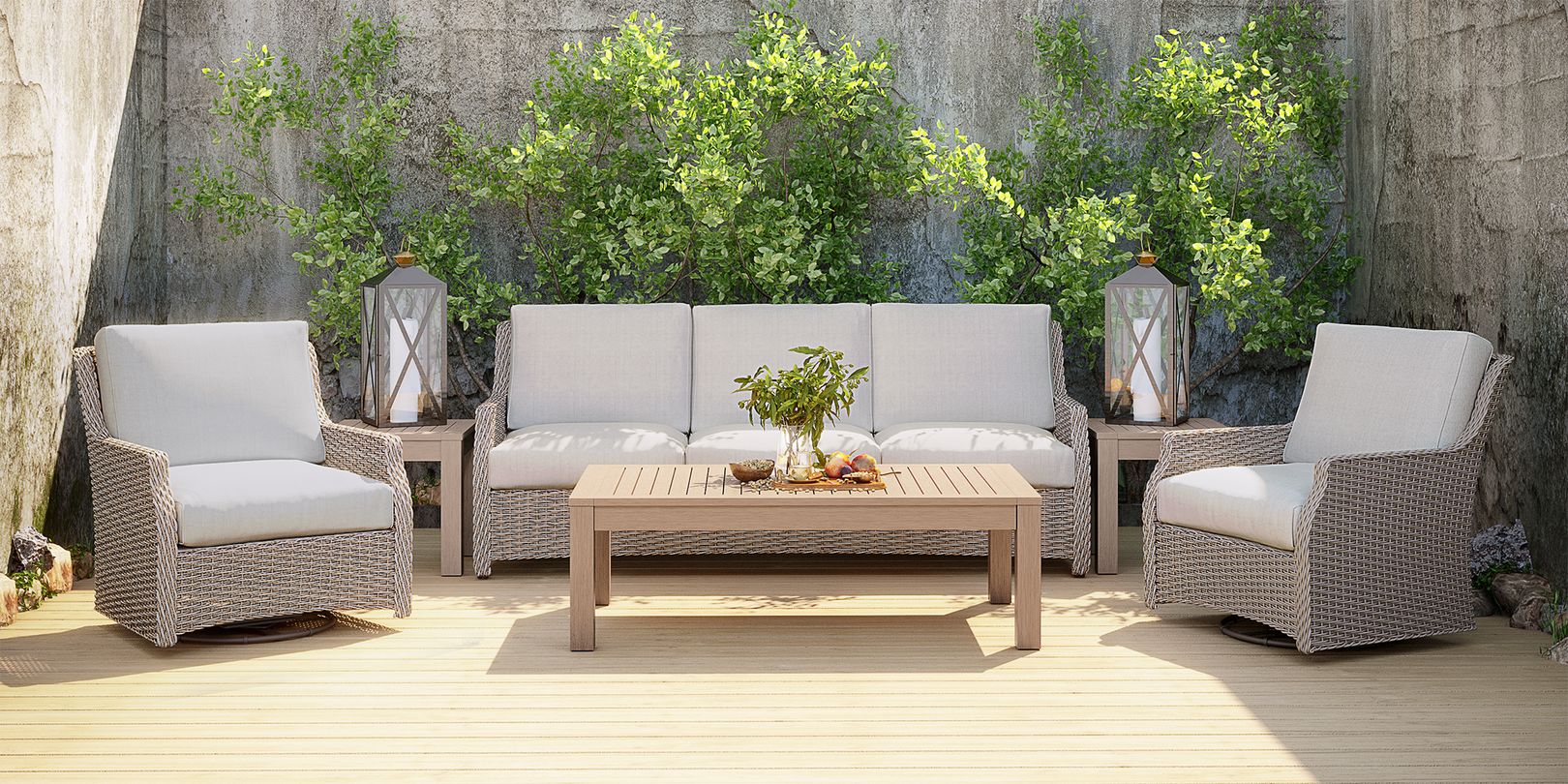 Enclosed patios and fences keep pets secure when playing outdoors.
When designing a pet-friendly patio, consider the size of your space and your dog's comfort and physical needs first. You'll need to put a few things in place before shopping for furniture:
Secure Location: First and foremost, you'll need to ensure your pet-friendly patio is escape-proof. Sturdy fencing, balcony rails that prevent pets from slipping through or getting stuck and screened-in areas for feline friends are essential to keep pets safe.
Easy Access: Make sure your pup can navigate the ins and outs of your deck and patio. Steep staircases can be troublesome for puppies, smaller breeds and older dogs. Wide shallow stairs make your deck dog-friendly, but store-bought or DIY ramps are a viable solution, too.
Shady Refuge: Pets need a place to take shelter and cool off after an enthusiastic game of fetch. Canopies and wood or aluminum cantilever umbrellas offer plenty of portable or adjustable shade, while dog houses, custom or otherwise, offer a more permanent solution for your backyard.
Hydration Station: Your pup will need plenty of water while playing outside. To dress up your dog's water bowl, find one to match the diameter of a stylish planter that coordinates with your balcony decor. Or, set up an outdoor console table and use the drawers and cubbies to hold water bowls, toys, leashes and treats so they'll be close at hand when you're out on the deck.
Play Space: Plan your pet-friendly patio furniture layout with your dog's favorite activities in mind. If a wicker sectional or daybed still gives your canine companion room to romp, you're all set. However, consider downsizing to a sofa set or a few Adirondack chairs if larger furnishings take up too much space. Finding the perfect balance between canine and human comfort is key.
Creating a Pet-Friendly Outdoor Furniture Layout
When weighing your furniture options, the types of pets you have, and their behavior, affect the materials you choose for your patio. Puppies may exhibit destructive habits, and cats require special accommodations to be safe outdoors. When furnishing your deck or balcony, keep potential pet problems and behavior in mind.
How Do I Stop My Dog from Chewing my Patio Furniture Cushions?
Left unsupervised, rambunctious pups may see chair cushions and pillows as playthings. High-quality outdoor materials can handle the conditions outside, but sharp teeth and claws cause a lot of damage in a short amount of time. Look for wooden storage benches or deck boxes to protect your outdoor cushions when your dog is alone on your patio.
Cats maintain their claws by scratching rough surfaces.
Do Cats Scratch Rattan Furniture?
If you plan on sharing outdoor spaces with your feline friends, your beloved cat may mistake certain textured materials like rattan or wicker for a scratching post. Consider aluminum or wrought iron seating sets if you and your cat hang out in a sunroom, screened-in porch or balcony. Or invest in a "catio" enclosure to preserve your furniture and keep your four-legged companions safe outdoors.
Furniture Ideas for Dog-Friendly Patios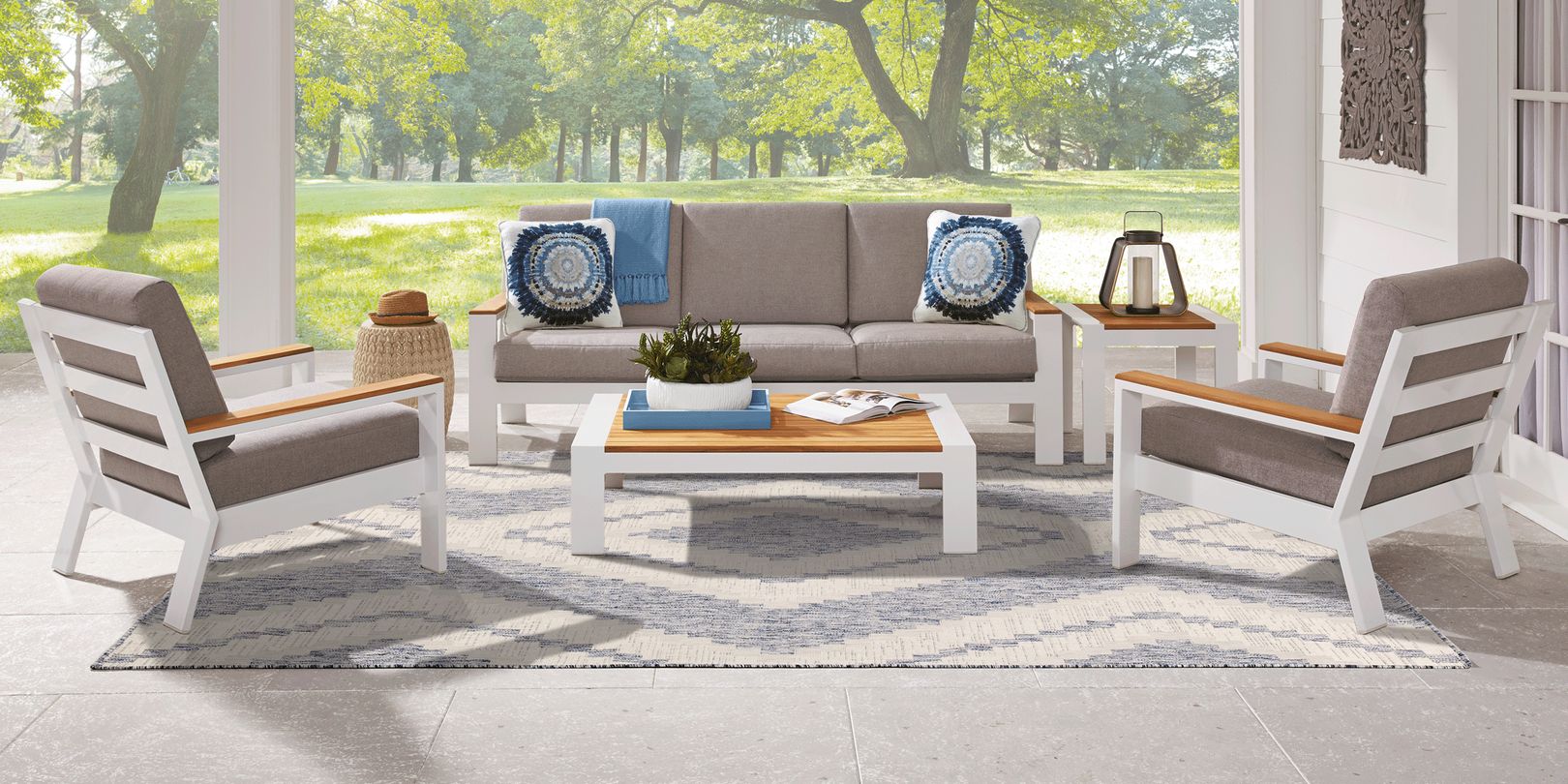 Low-profile seats allow puppies and older dogs to join you for a cuddle session on the couch.
Once you have your pet care essentials in place, arrange your layout with both canine and human comforts in mind, and opt for low-maintenance materials to ease the cleanup process for spills caused by wagging tails and other accidents. Consider the following dog-friendly patio furniture tips when outfitting your deck or yard: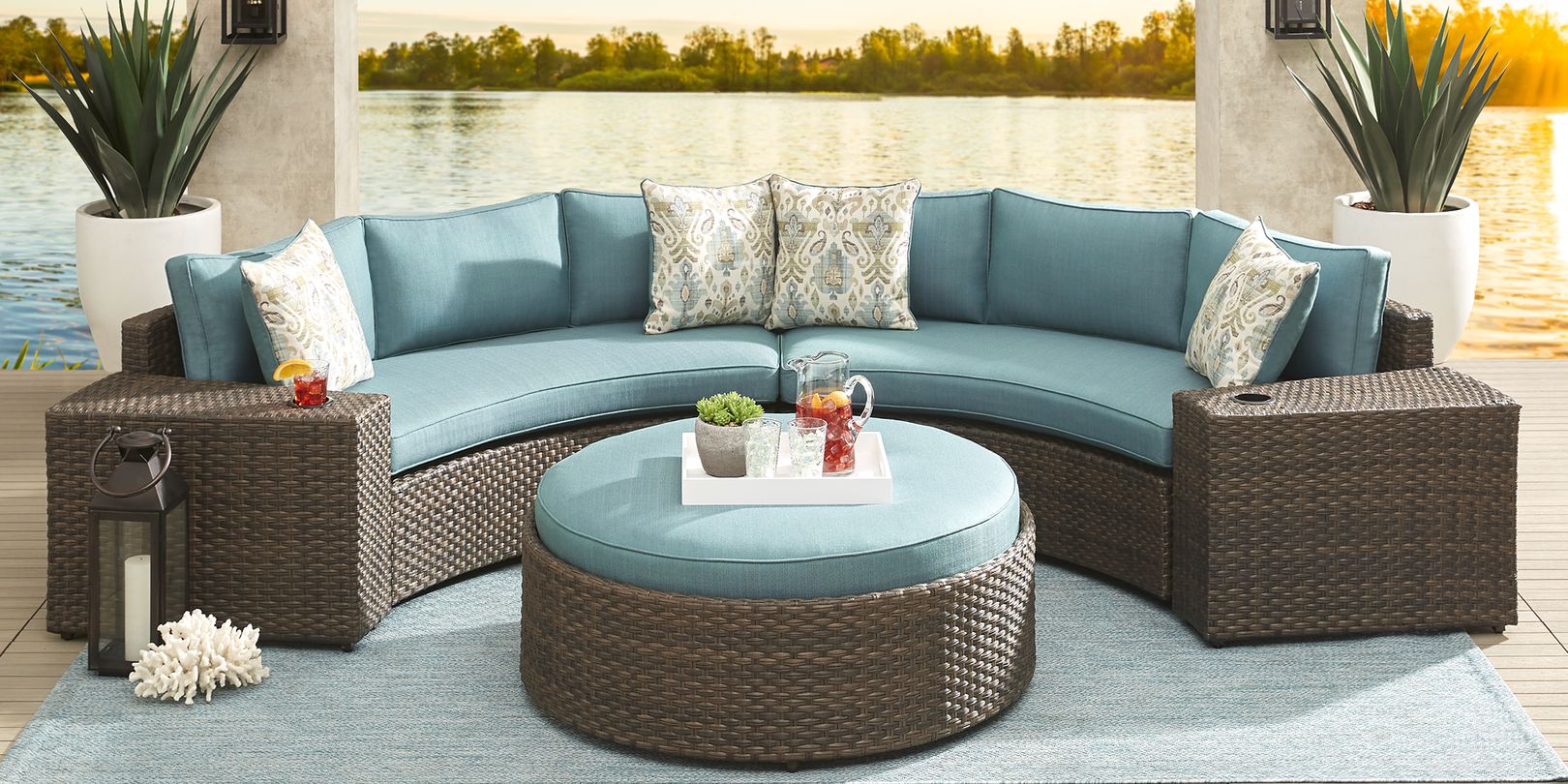 Curved sectionals with a cushioned ottoman ensure pets are the center of attention.
Sharing your deck or porch with your pets is a great way to bond and play with your canine or feline companions. You can easily create a pet-friendly patio furniture plan for your balcony or backyard by putting pet essentials first and choosing your materials and layout wisely.
Tips & Considerations for Furniture Selection
When shopping for pet-friendly furniture consider these ideas:
Sturdy, durable material
Washable, easy-to-clean fabrics
Protective furniture covers
Move Decor Away from the Floor
To prevent accidents from boisterous tail wags or play sessions, keep pet area decor high on the wall. Closed shelving is an excellent place to store opened bags of dog food or cleaning products away from a curious pet. Hanging wall units provide a place to store leashes and treats out of reach as well.
Consider Their Needs
Just like people, dogs and cats need stimulation to avoid boredom. Include opportunities for climbing and lounging as well as open spaces to stay active. In a room with a window, arranging furniture to create a perch will provide hours of viewing enjoyment.
Use Durable Fabrics
Man's best friend is also man's messiest housemate. Furnishings soon show spots and discoloration after muddy playdates. For pet area furniture, opt for stain-resistant materials. Polyester blends and acrylics stand up well to dirty pets, though slipcovers are another option. When choosing rugs and fabrics, make sure everything is washable.
Keep the Color Scheme Practical
Any pet owner knows there's no stopping hair from getting everywhere your animal goes. A trick to make shedding less noticeable on furniture and floors is choosing colors that match your pet. A chocolate lab's coat will blend with a brown couch, and a burnt orange rug conceals a tabby's fur.
Provide Storage for Toys
Like a kid's play area, a pet-friendly room needs plenty of storage to keep toys from taking over the space. Decorative bins and baskets organize and declutter in a way that's also fun and fashionable. Some ottomans and other pet furniture have compartments inside to tuck toys and grooming supplies out of sight.
Add a Pet Bed
If you want to keep pets off nice furniture, consider buying a bed just for them. Giving cats or dogs their own place to rest further prevents dirt and damage to chairs and sofas. To help pet beds blend seamlessly into your interior design, pick a piece that harmonizes with the surrounding decor.
How to Find the Pieces They'll Love
Many animals have specific tastes when it comes to which pet furniture feels, smells and looks good. As you design a cat or dog room, try incorporating different textures and colors to figure out what they like best. After all, it is as much their space as it is yours.