Selecting Accents for Your Rustic Patio Design
Rustic style is the perfect stripped-down aesthetic for those looking to establish a relaxing yet robust patio layout. Even adding just a few rustic elements to your current outdoor setup can bring rugged simplicity and charming warmth to your deck or terrace. Looking for unique ways to incorporate rustic outdoor decor into your setup? Check out this post to find stylish rustic garden decor suggestions.
Overview
swings/
This article offers practical design tips to help you: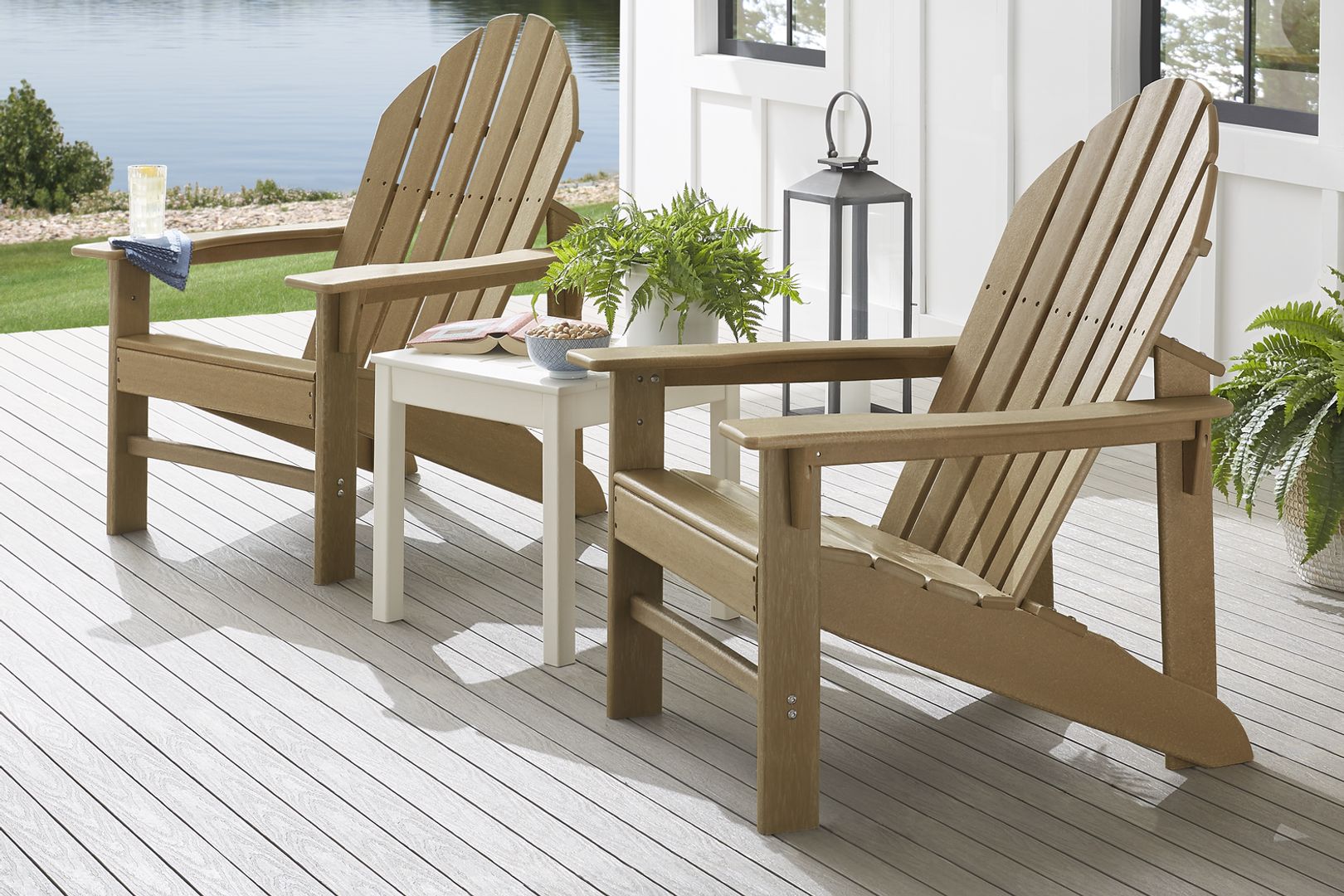 Use rustic accents to bring a simple, outdoorsy vibe to your current design.
Basics of Rustic Design
Down-home decor styles like farmhouse, coastal, cottage, and Tuscan designs all feature rustic elements. While each of these chic yet simple looks has its own unique charm, you'll notice that all have at least one of the following traits that tie them back to their rough-hewn roots:
Natural finishes, raw materials and rough textures are common features of rustic patio layouts.
Country, Rustic and Farmhouse Outdoor Decor
Even if your current setup has a more modern, streamlined design, rustic accents can blend in beautifully with your patio layout. Many of these natural, organic pieces can stand out and provide stunning contrast against your other outdoor furniture. If you want to create a rugged, cozy vibe for taking it easy and enjoying the outdoors, consider adding some of these rustic items to your space.
Outdoor Rustic Wall Decor
Spruce up your patio design using rustic outdoor wall decor. Lean a wide-rung wooden ladder against the side of your home to create a unique deck-top shelving unit. Or, mount metal artwork depicting the sunrise on your privacy screen or wooden fence to add decorative flair to your backyard.
Practical accents like copper patio thermometers and clocks with wooden faces are also excellent for rustic layouts. Meanwhile, a stained glass suncatcher, a wood-and-metal wind chime or a tapestry of a rolling country landscape can promote the charming down-home vibe you want for your outdoor hangout spot.
Adding rustic decor to your backyard fence or patio walls is a stylish way to personalize the space.
Rustic Light Fixtures
While you can maximize natural light on your patio to enhance the outdoorsy vibe, you might also need light fixtures to illuminate the space. Rustic outdoor lanterns are the perfect decorative option for country and farmhouse deck layouts. Top your rustic end tables with these metal or wood-framed fixtures. Or, place larger lanterns on the ground beside your front door or rustic patio sofa.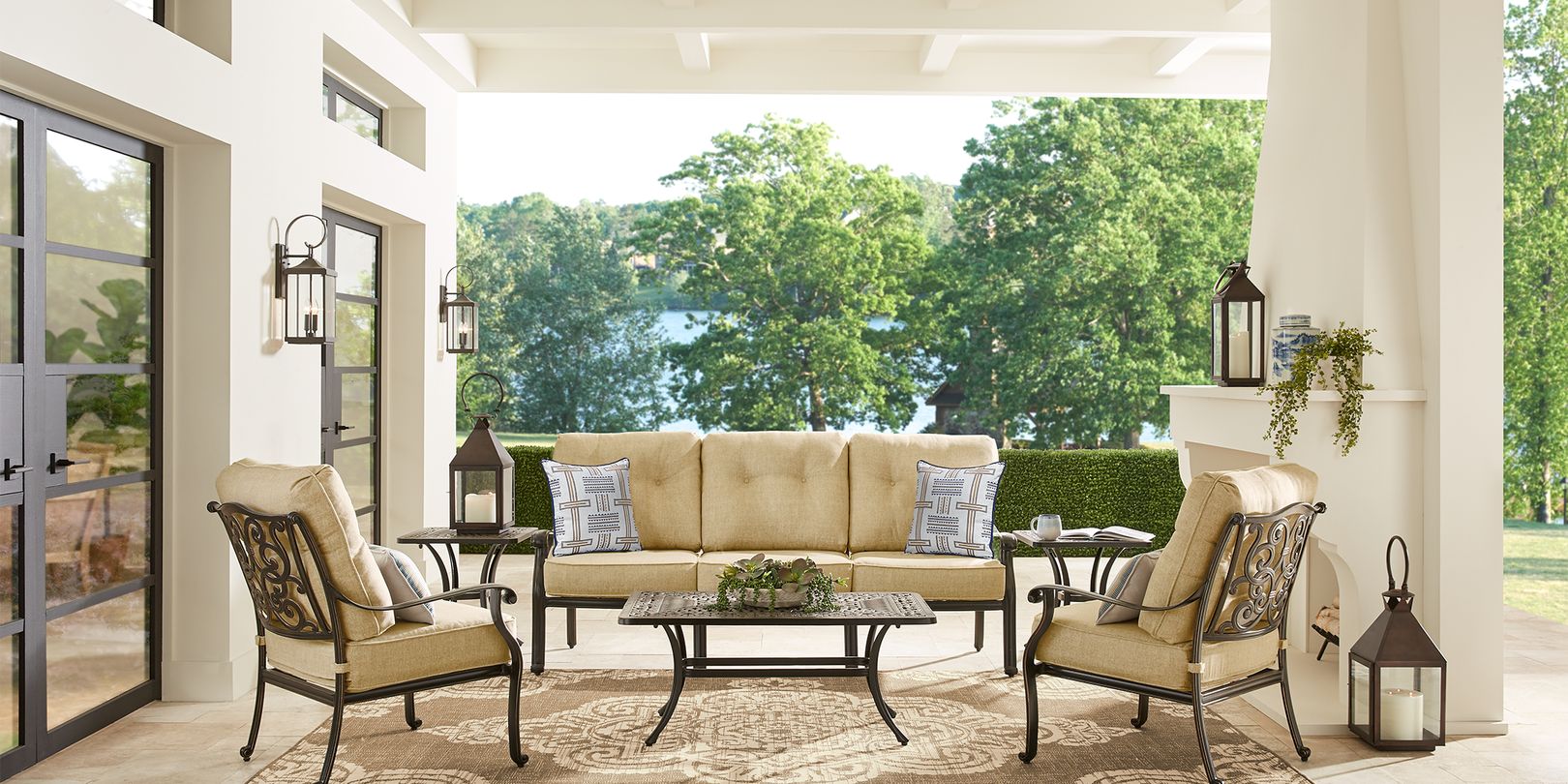 If you're short on tabletop space, consider hanging or wall-mounted lanterns instead.
Lawn Decor for Rustic Backyards
Some people expand their rustic design from the porch to the yard by installing a wishing well, stone fire pit, small windmill or birdhouse on their lawn. Looking for a simpler approach? Place a wooden bench, hammock or swing in your backyard. Set these seats up near a woodpile or accent them with rustic metal yard art like decorative animal figurines and tin buckets full of colorful flowers.
Another rustic patio decorating idea involves repurposing old furniture into decorative planters. Transforming your childhood bicycle or toy wagon into a unique flower bed is the perfect project for those trying to live more sustainable, zero-waste lifestyles. You can also fit metal and terracotta flowerpots into the broken seats of wooden bar stools and rusted metal dining chairs.
Rustic lawn ornaments can give your backyard a laidback, lived-in look.
Creating a cozy, welcoming, easy-going environment that you and your visitors will enjoy is the main goal when adding rustic decor to a deck or patio. Use the helpful tips in this post as inspiration to spark your creativity as you incorporate stylish farmhouse, country or rustic pieces into your layout.