Spring Potted Plants & Containers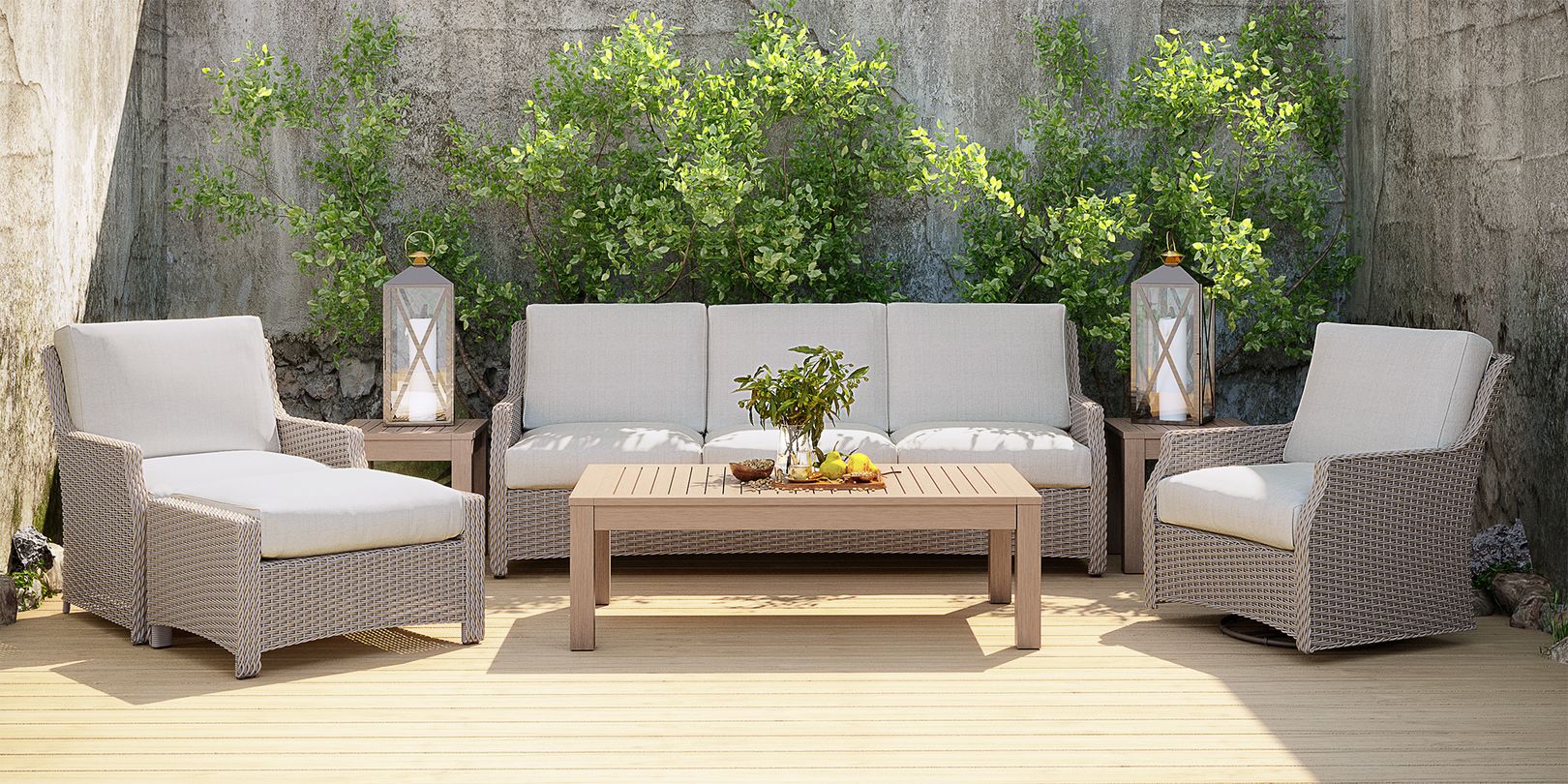 Spring is the season of blossoming flowers, lush vegetation and an abundance of natural color. It's also the perfect time for you to get outside and create a thriving container garden on your patio or deck. Whether your backyard is too small for a garden or you're just looking to show off your green thumb, outdoor pots and planters let you grow flowers, herbs and vegetables even in compact spaces.
Overview
This post offers spring container ideas and tips on the following topics:
Types of Planters for Container Gardens
With so many options available, choosing the ideal outdoor planters for your container garden can be challenging. However, a quick survey of your available patio space can help you decide which planter type suits your layout and design needs. Try experimenting with multiple planter styles to make full use of your deck or patio.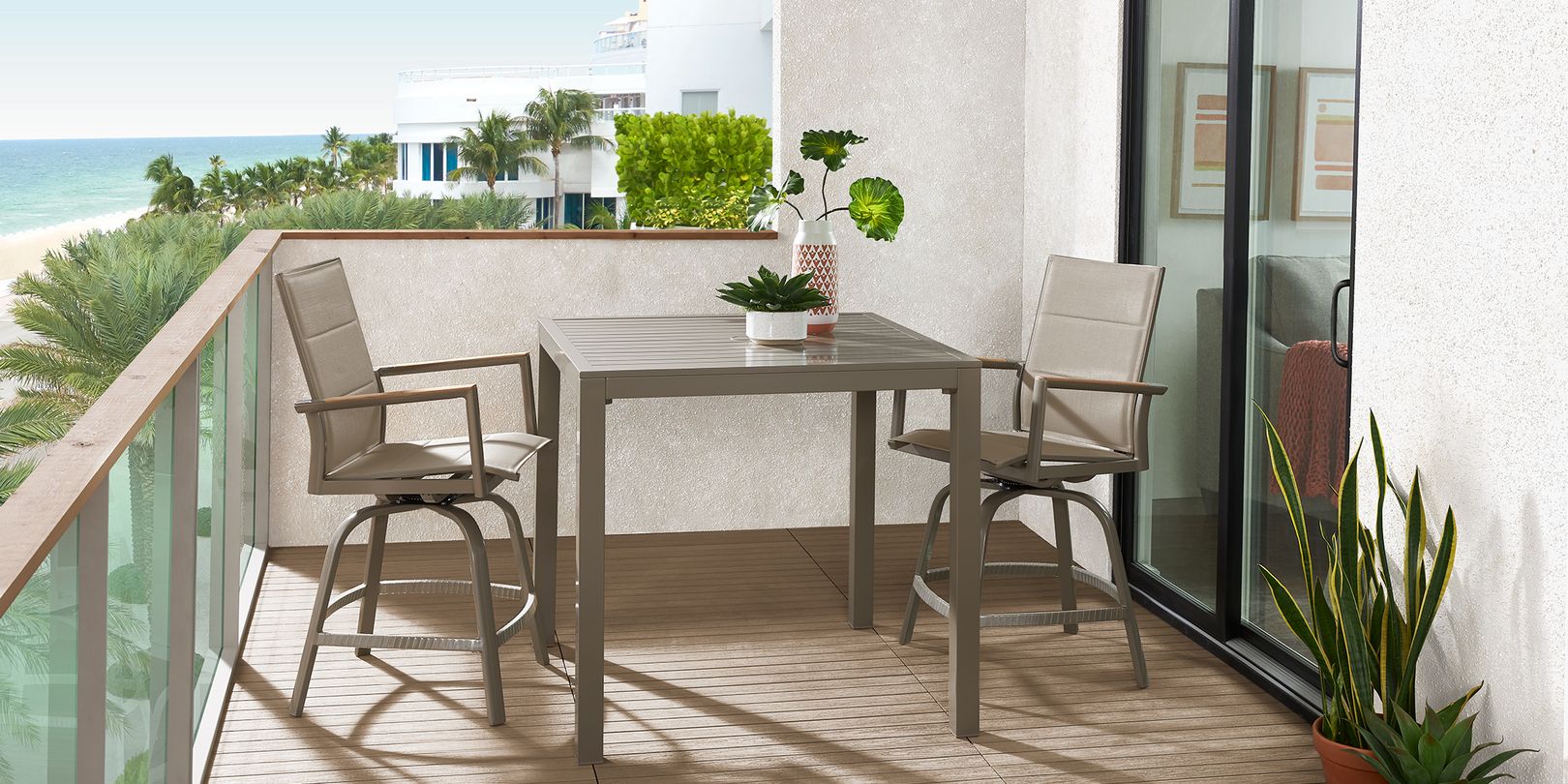 Choose pots that suit your plants as well as your decor style and color scheme.
Planter Pots
Outdoor planters range from small, single plant pots to extra-large containers, and ceramic, terracotta, wood, steel and plastic are popular materials for these vessels. For annual planters, consider lightweight resin to make deadheading and fall clean-up easier, or select concrete pots for plants and trees that can stay outdoors year-round, even when temperatures drop.
If you've found the perfect spot for a mix of sun and shade, opt for a heavier planter for hardy perennials in your patio garden. Also, keep growth patterns in mind when choosing planter pots. Tall potted trees will need wide, low-profile vessels, while tall, slim planters allow ample room for trailing vines.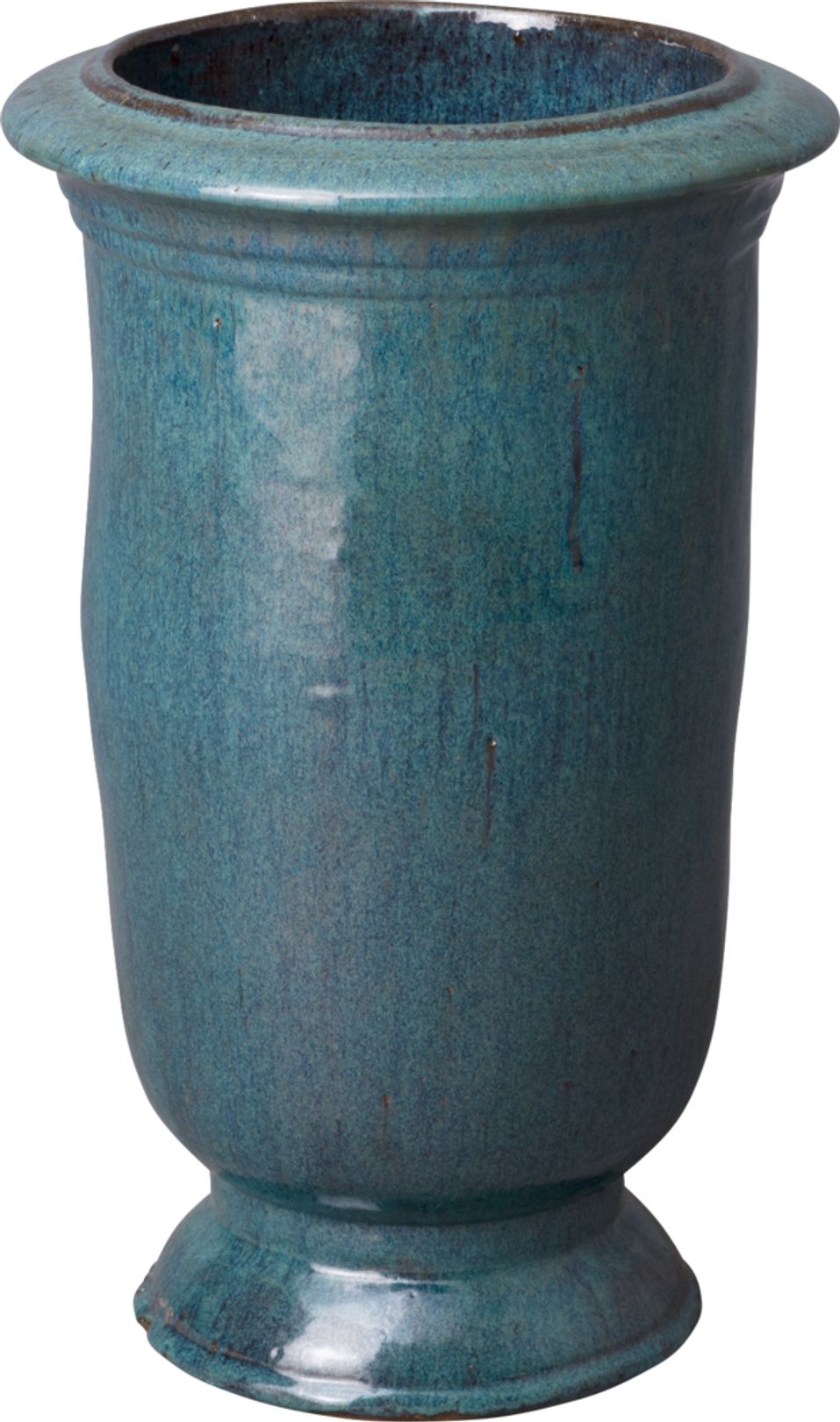 Look for slim or narrow pots for single plants, or choose wider vessels to grow a mix of herbs and flowers.
Planter Boxes
Planter boxes can serve a variety of purposes. Arranging a pair of tall planter boxes filled with lush foliage by the front door is a lovely way to greet guests. Or, you can dive into container gardening with a deck planter, raised bed or plant stand, all of which provide the width, depth and drainage needed to grow various blooms and herbs on your porch or patio.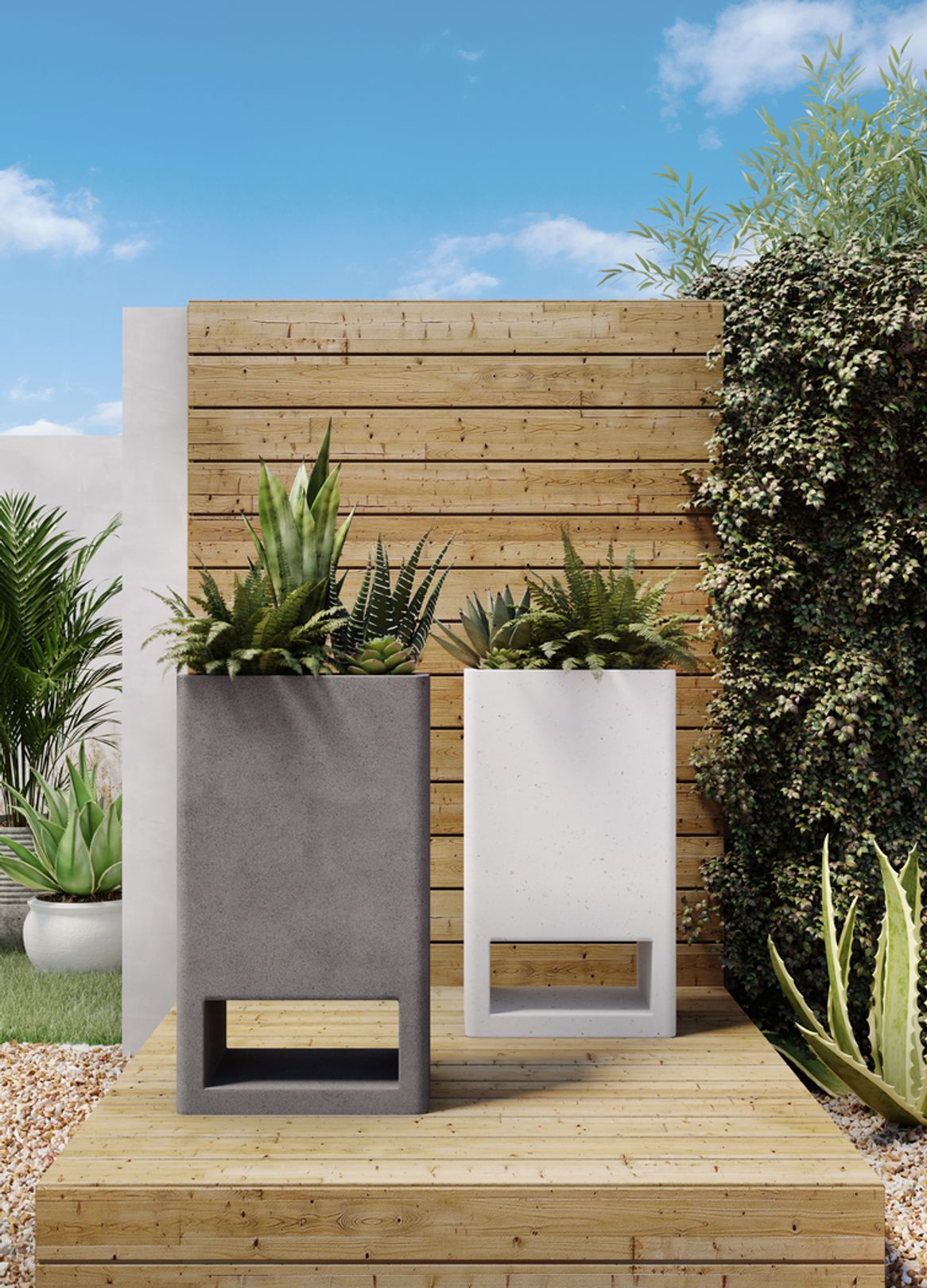 Use planter boxes to accent your patio or welcome guests to your front door.
Hanging Planters
To optimize vertical space and keep your patio clear for a wicker dining set or teak chairs, consider hanging planters that attach to porch roofs, walls and shepherd's hooks by a chain or rope. In addition to looking great and saving space, certain hanging planters retain more water than standard flowerpots, making them ideal for plants that need moist soil.
Window Boxes
Perfect for apartments with little room for gardening, window boxes provide plenty of space for plants and succulents. Grow herbs outside your kitchen window for your culinary creations, or attach these planters to balcony rails and arrange your bistro set among brilliant blossoms and green foliage. Choose your window box location carefully to meet your plants' needs for full sun or shade.
Best Spring Potted Plants
What Flowers Can I Grow in Pots?
The final step in creating your patio garden is adding your favorite springtime flowers. Research your favorites, and save the plant care tags included with your purchase, so you know the sun, shade and water requirements for each one. Be wary of certain plants, like strawberries and some types of mint, that are better off in their own pot, as they tend to overwhelm container gardens.
A few common spring flowers and plants you can grow in pots include:
Pansies: The first choice among many gardeners, pansies are an excellent option for your container garden. These colorful annuals bloom in lively hues such as yellow, white, orange, pink and red. Best of all, pansies flourish in full sunlight and tolerate cold temperatures well.
Primrose: Another staple in spring gardens, primrose often grows in clusters of light-yellow blooms and green leaves, though pink, red and orange blossoms are common as well. These perennials prefer partial shade and moist soil through spring and summer.
Petunias: Petunias may be the most popular spring flowers for container gardens, and for good reason. These tender perennials come in nearly every color, thrive in full sun and grow fairly quickly. Given the proper care and conditions, petunias often survive the winter months indoors and bloom again when the weather warms up.
Herbs and Vegetables: Along with more traditional spring plants, many gardeners plant herbs and vegetables, too. Growing your own ingredients can save you money at the grocery store, and low-maintenance parsley, kale and spinach are ideal for patio gardens.
While spring is the start of sunny days and warm temperatures, there's still the potential for overnight frost. Moving planter pots indoors or placing a protective cover or tarp over your container garden can help keep your plants out of harm's way. Also, it's a good idea to stay up to date with weather reports, so you can monitor upcoming frost or freezing conditions.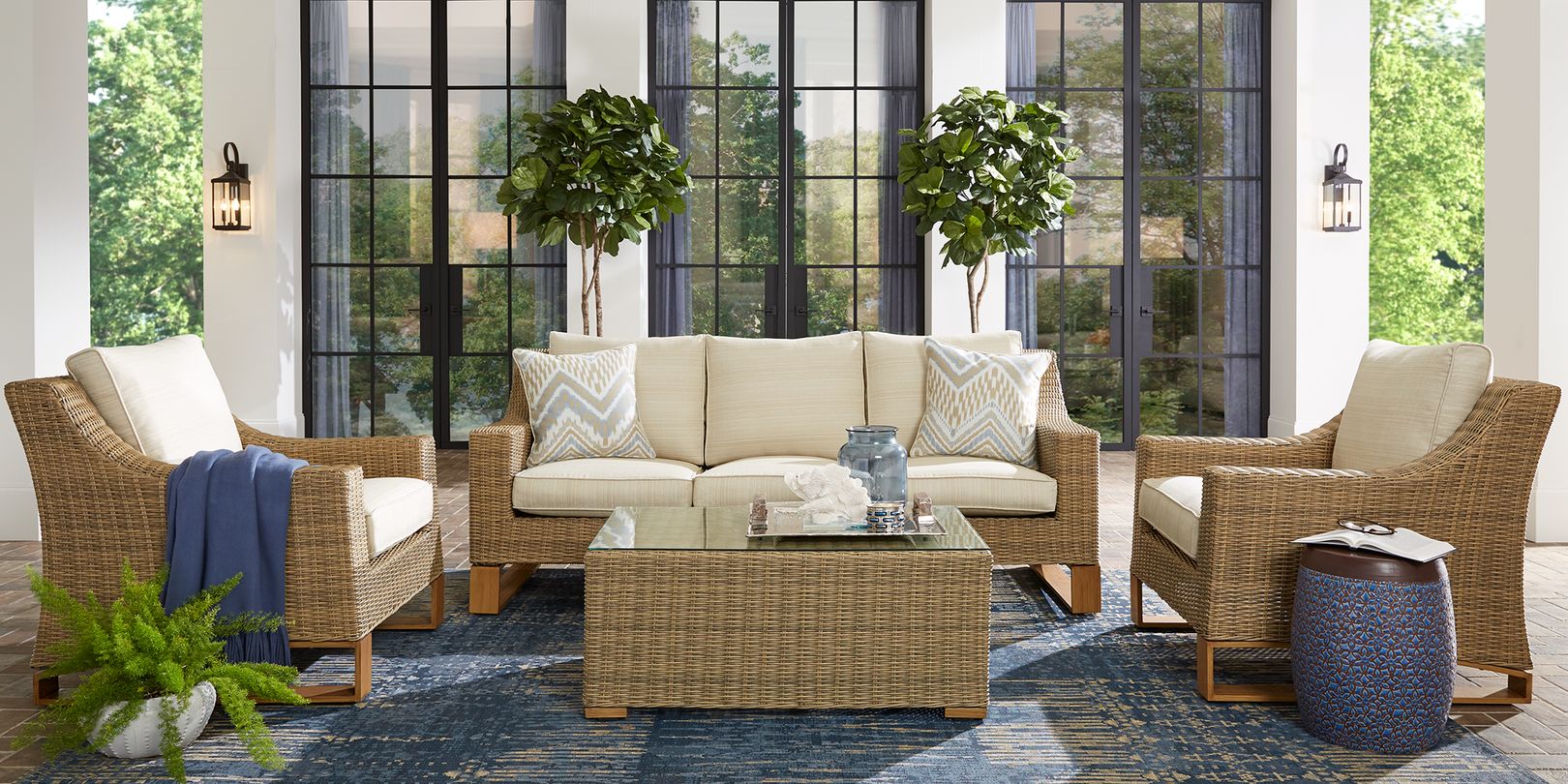 Choose portable outdoor pots and planters for temperature-sensitive ferns and foliage, so you can bring them inside during cold weather.
How Do You Plant Spring Flowers in Pots?
When it comes to planting spring flowers in pots and other containers, consider the filler, spiller and thriller approach. By taking advantage of distinct growth patterns, you can create an impressive, three-dimensional display of color and beauty. The list below defines each plant type along with potential combinations:
Filler: True to their name, low-profile filler plants grow in the spaces between your flowers and other greenery, creating a full, lush foundation and allowing taller blooms to stand out. Effective filler plants include petunias, marigolds and dianthus.
Spiller: Spillers cascade over the sides of your flowerpot and cover the hard edges of the container, giving your patio garden a softer, more natural look. Sweet alyssum, lobelia and verbena are all popular spillers to include in your outdoor pot or planter box.
Thriller: The main attraction of your container garden, thrillers are colorful, eye-catching flowers that stand taller than other plants in a pot. They also typically contrast against the colors of filler and spiller plants. Breathtaking thrillers include canna lilies, ornamental grasses and geraniums.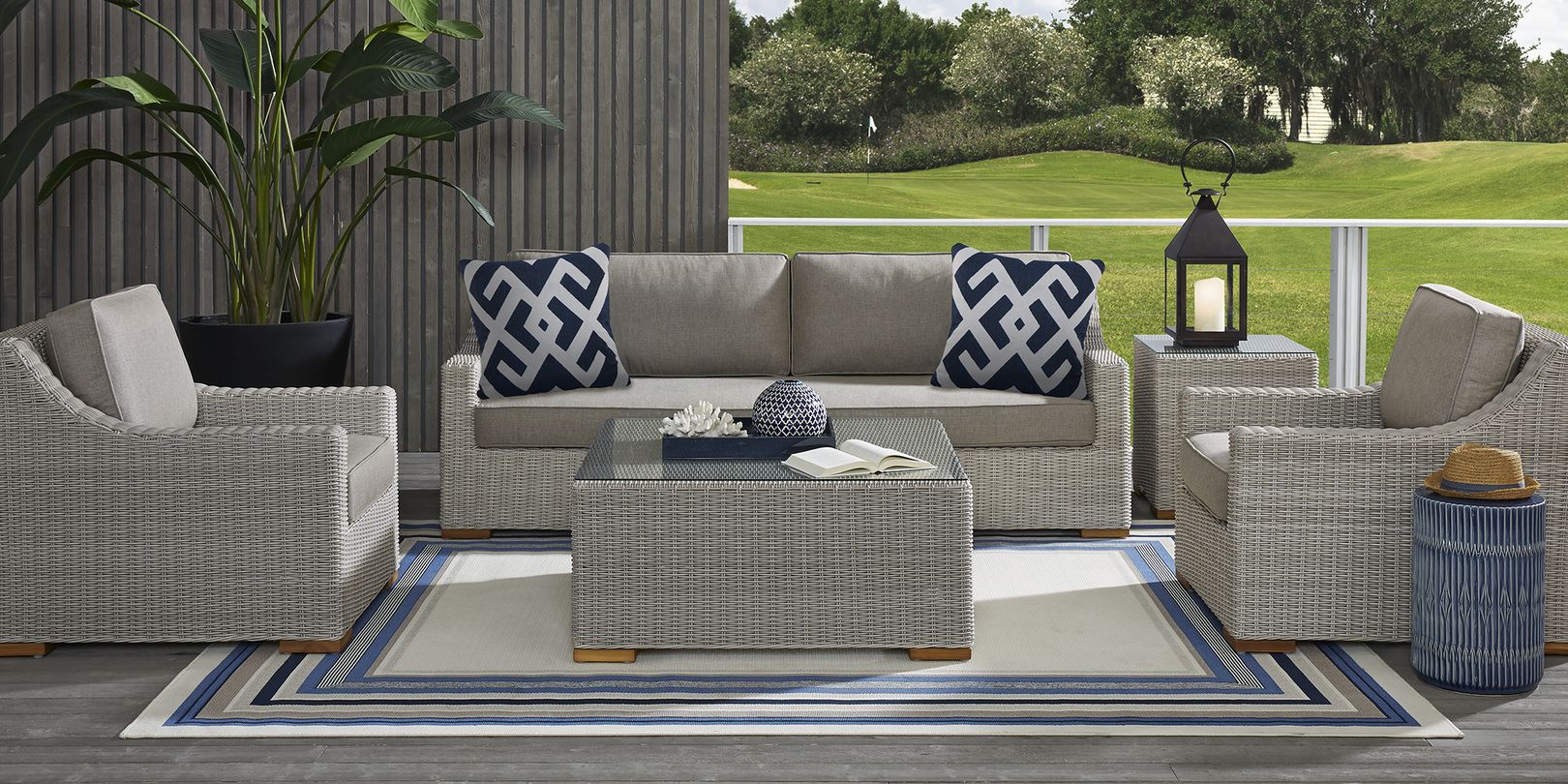 Mixing plants of differing heights in containers is similar to the approach used for well-landscaped lawns.
Patio Seating
Once you've put the last planter in place and stowed your garden tools, it's time to kick back and relax on cozy outdoor seating. Choose patio furniture that fits your layout and space limitations while keeping walkways clear. On smaller patios, window boxes and hanging planters help conserve square footage for seating or dining sets.
Keep in mind that container gardening can also affect your furniture choices. Large outdoor pots and planters may leave little room for a full seating collection. But if a porch filled with abundant blooms and full foliage is the goal, a pair of outdoor chairs and a chic table may be all you need to enjoy the fruits of your labor.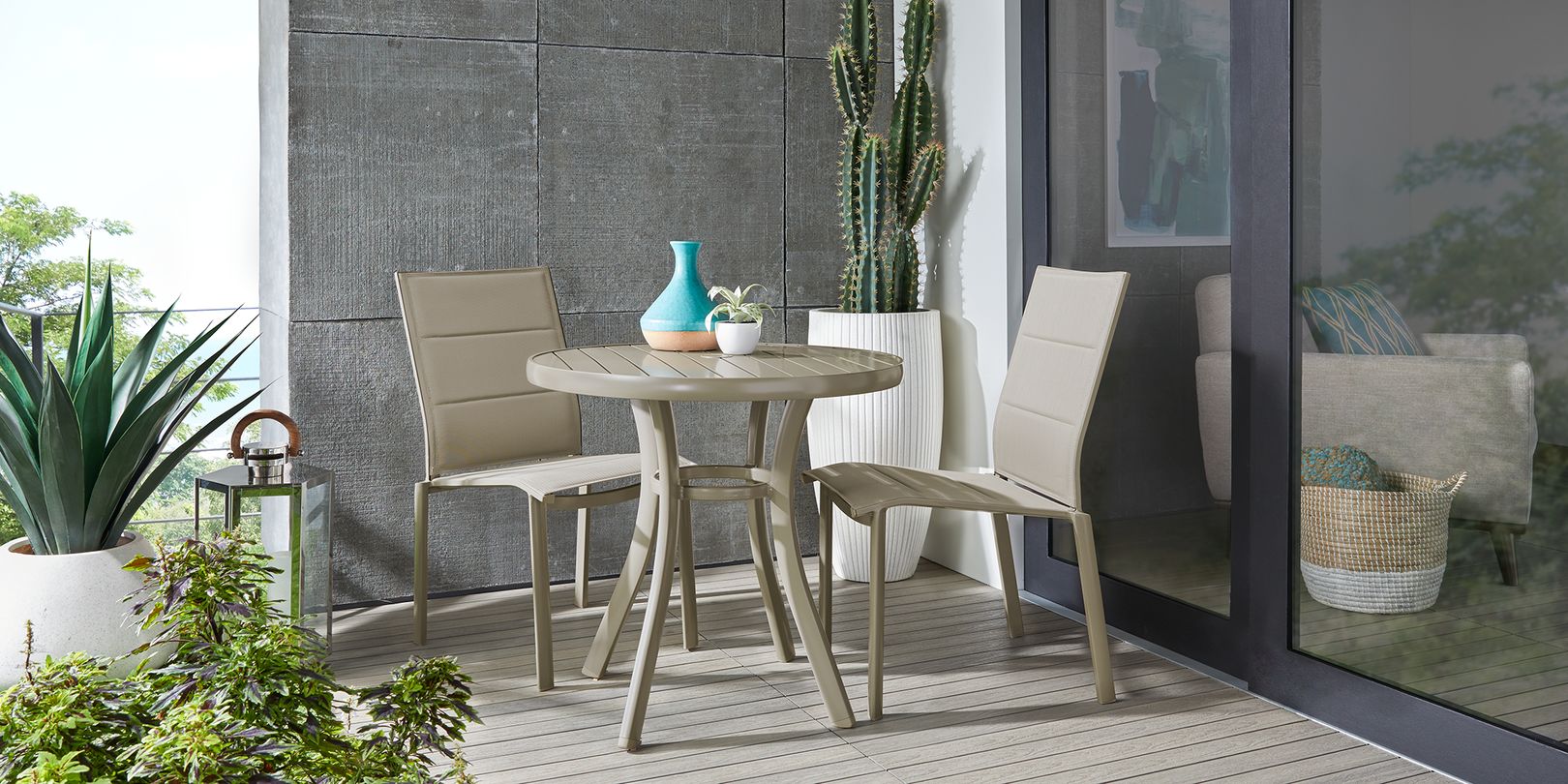 When adding planters and pots, avoid going overboard and leave ample room for furnishings and decor.
Outdoor Seating Sets
The only thing left to improve your patio garden view is a stylish and practical outdoor seating set. Ideal for hosting friends and family, patio collections often feature multiple chairs, a sofa or loveseat and a convenient coffee table for drinks and appetizers. Teak seating sets and wicker sectionals complement classic and coastal layouts, while metal conversation sets work well with contemporary themes.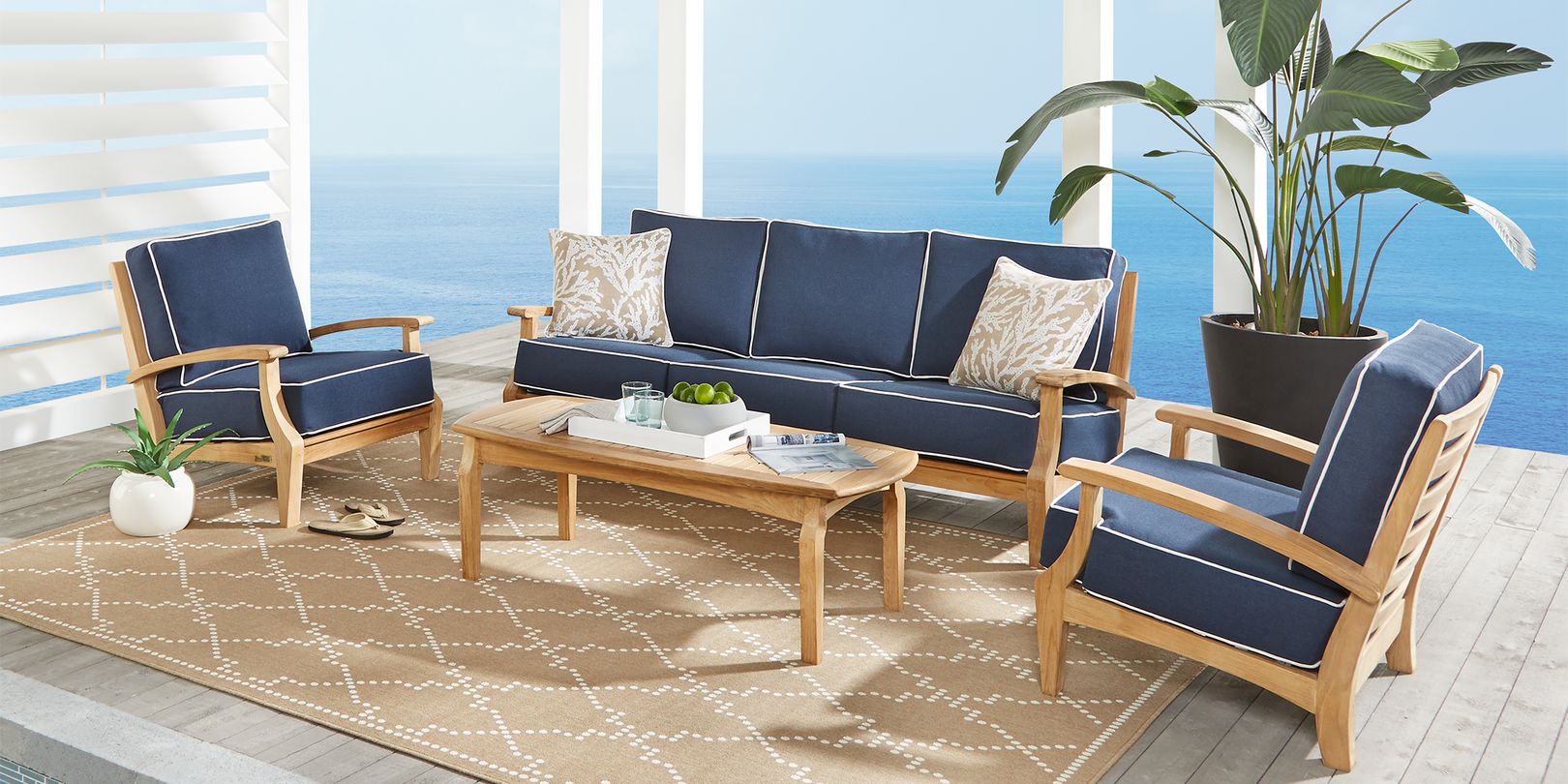 Planter Patio Benches
For a unique seating option that's sure to draw the eye, consider a planter patio bench. A great choice for small outdoor spaces, patio benches pull double-duty by providing a cozy spot to relax and a convenient place to grow spring potted plants, flowers and herbs. To conserve additional floor space, opt for a corner bench featuring a center planter box.
Once you've chosen your outdoor pots and planters, selected your annuals and perennials and arranged your outdoor furniture to take advantage of the view, maintaining your lovely mini patio garden is a wonderful new hobby and a source of colorful blooms, healthy veggies and fragrant herbs, season after season.