Decorating with wood outdoor furniture creates a breezy, natural look on your porch, deck or patio. Picking the right wood furnishings for your outdoor space, however, depends on your budget, product availability, and your style. Knowing more about popular hardwoods like teak, acacia and eucalyptus can help you choose the perfect pieces for your layout.
Overview
This post provides information and comparisons for wooden patio furniture on the following topics:
Teak
Teak Furniture Characteristics & Styling
Teak is a wonderful investment for your patio. The material's light, honey-brown color looks gorgeous in any style, and there are plenty of teak furnishings for all your dining and entertaining needs. Over time, teak can also develop a stunning silvery patina that boosts the look of your decor. Or, you can opt to use a sealant to help preserve its rich golden hue.
A versatile hardwood, teak is dense with a straight woodgrain that's perfect for a modern beach house or an airy, minimalist loft. Native to southern Asia, teak is slow-growing and popular, so you may have to make room in your budget for teak Adirondack chairs, side tables, ottomans and other accessories.
Some factors you might consider when looking for teak furniture for the outdoors include:
Cost
Grown in plantations to ensure reliable and constant supply, teak often has a higher price tag compared to other woods. However, the beauty of natural teak furniture makes it a good investment.

Availability
Demand for teak-framed items like club chairs, rockers and coffee tables contributes to the furniture's higher cost, but there's a thriving market for teak furniture items.

Styling
Teak has a lighter finish than other outdoor wood furnishings, making it perfect for bright beachy or boho color palettes and accents like white or beige cushions.
Teak Furniture Ideas
If you plan on using teak furniture to complete your outdoor space, consider a few decorating ideas to ensure this glowing hardwood captures the look and feel you want. From entertainment to relaxation, teak patio pieces can light up your outdoor decor: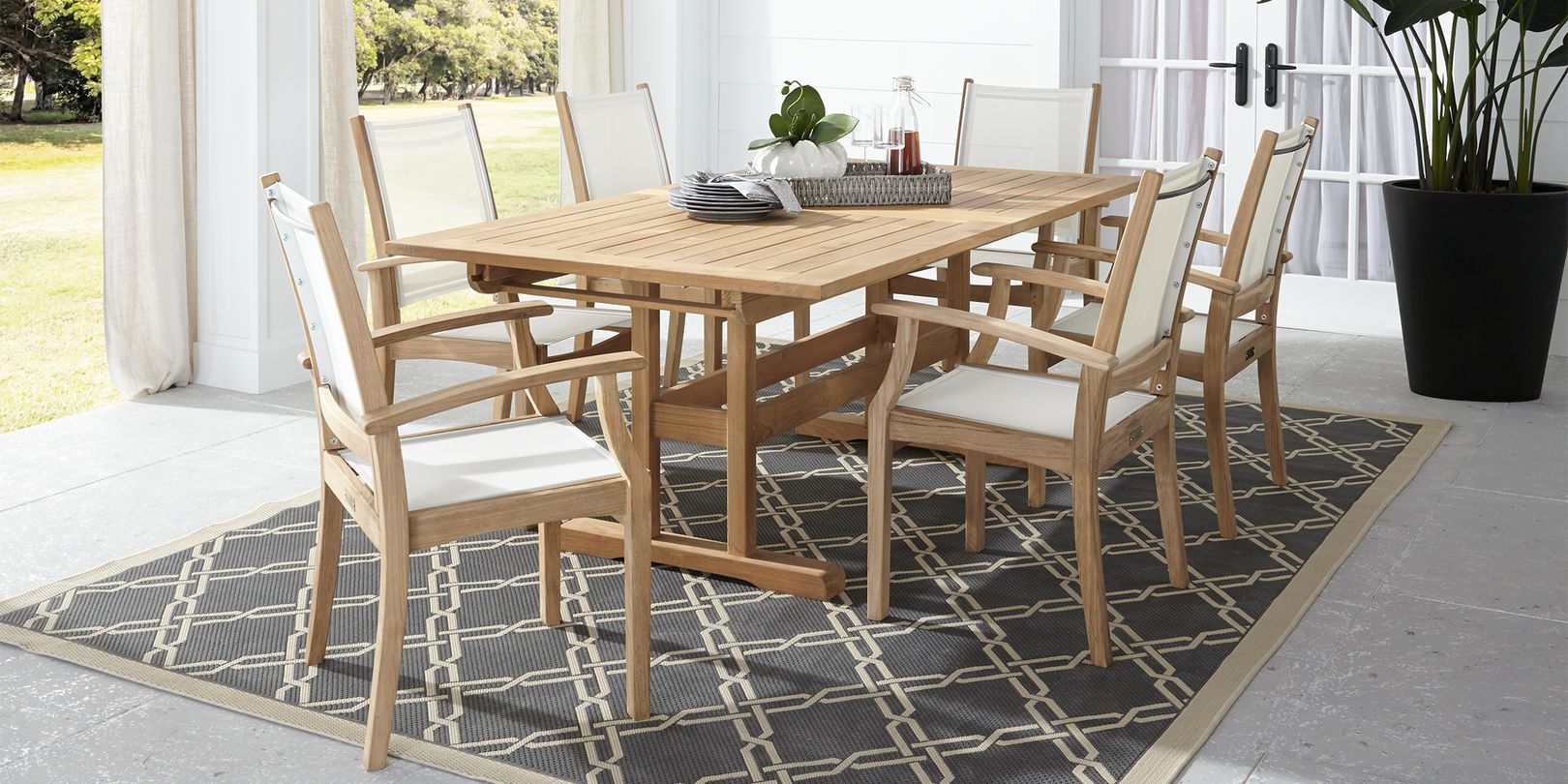 A natural teak dining set coordinates easily with most outdoor decor.
More useful information about teak furniture.
Acacia
Benefits and Uses of Acacia Outdoor Decor
Acacia trees have many different names, but they are all native to Australia. Over many years, the tree family spread to Africa, Asia and other areas of the Pacific. The acacia wood used for furniture is dense yet lightweight, making these furnishings easier to move, store and carry.
Part of acacia wood furniture's appeal is the golden yellow it displays in sunlight and its distinctive wood grain texture. Like teak, acacia can also develop a patina that looks beautiful among modern, rustic, and industrial patio decor. When comparing acacia wood vs. teak and other woods, there are a few differences:
Cost
Acacia has a moderate price tag, but it's less expensive than teak, with plenty of quality and style. It is more widely available in terms of where it's grown, too.

Availability
Fast-growing and sustainable, acacia is a common outdoor material. Those looking for this hardwood can find everything from conversation sets to dining sets available online and in stores.

Styling
Acacia has a warm tone that suits a wide array of colors and decor styles. Warm up a cool color palette with an acacia table set or coordinate with bright orange and yellow seat cushions for a sunny look.
Decorating with Acacia
After considering the tropical hardwood's many benefits, if an acacia patio set sounds ideal, it helps to have a few layout ideas when shopping around. Whether you're outfitting your deck, porch or loft, acacia wood furnishings can give any space a serious style boost:
Dining Furniture
Acacia wood dining tables are a popular choice, from picnic tables in the backyard to tables with seating for up to eight people. Plus, acacia pairs well with materials such as wicker and metal and blends in effortlessly with other hardwoods.

Seating Arrangements:
Conversation sets, sectionals and chaises made of acacia wood make terrific seating. The warm, sunny glow instantly promotes an air of relaxation while cushions in any color coordinate perfectly.

Decor
Acacia-finished accessories and decorations turn up the heat when it comes to outdoor decor. Acacia benches add curb appeal to the front of your home, while accent tables, planter stands and acacia wood signs carry your design theme to the rest of your outdoor spaces.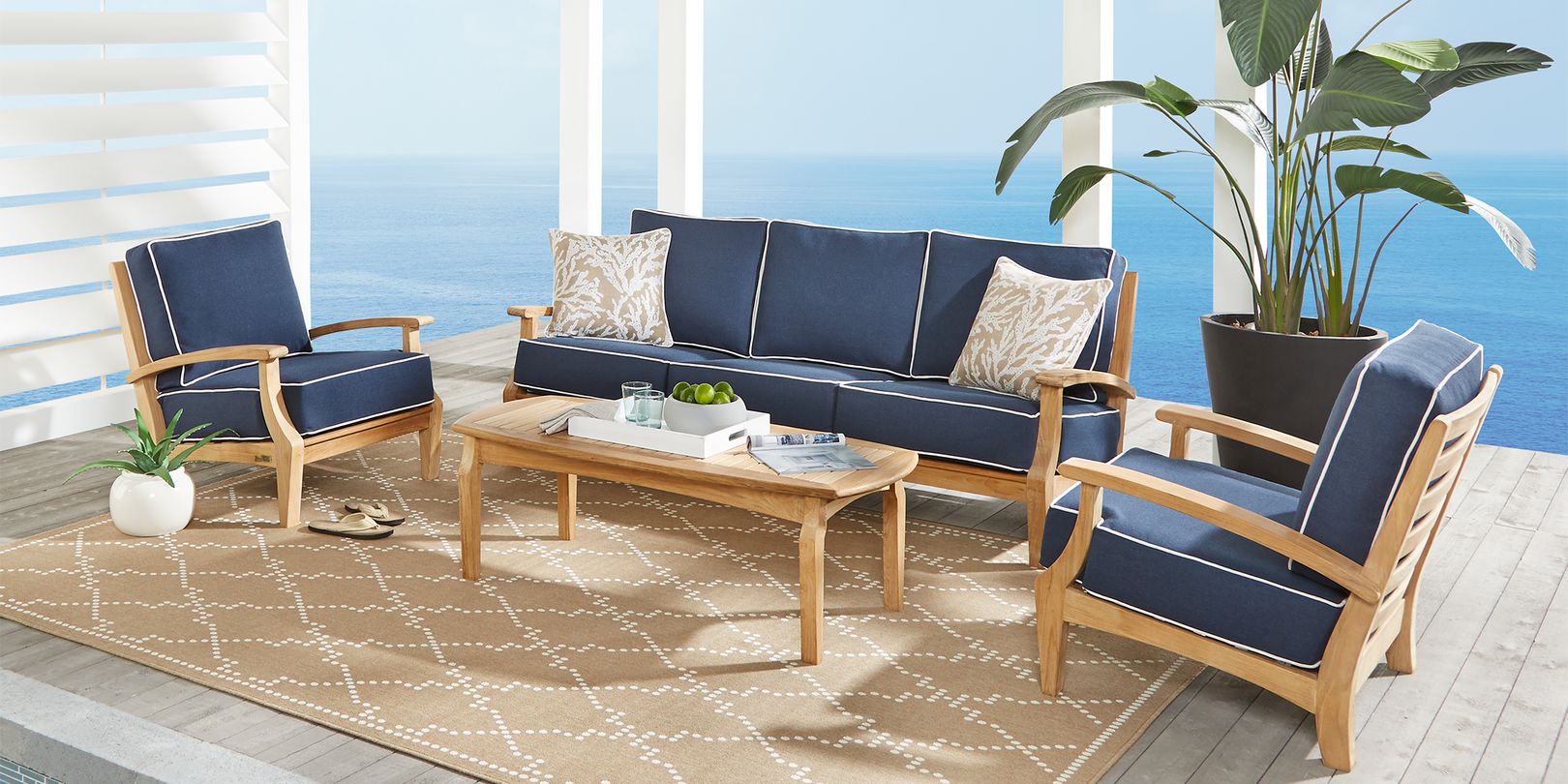 Acacia wood provides gorgeous framing for outdoor sofas, sectionals and accent chairs.
Eucalyptus
Features of Eucalyptus as Outdoor Furniture
Eucalyptus is a common hardwood for outdoor furniture. And, if eco-friendly furniture appeals to you, responsibly grown and harvested eucalyptus has an FSC-certification. Known for its stunning woodgrain patterns and smooth texture, this wood has coloring similar to teak. However, eucalyptus may be darker or lighter depending on the furniture and finish you choose.
Also, like teak, eucalyptus develops a gray patina with time. You can also find painted, stained or whitewashed eucalyptus to coordinate with your decor. As it is native to Australia, eucalyptus wood needs protection in colder climates, so be sure to keep furniture stored during the winter.
When deciding between eucalyptus and teak or acacia, a few factors make eucalyptus a good contender when choosing quality outdoor furniture:
Cost
With a much lower price tag than acacia or teak, eucalyptus is a budget-friendly choice for your patio.

Availability
Since it's a fast-growing tree, eucalyptus is readily available for many types of outdoor furnishings.

Styling
With so many different finishes available, it's easy to incorporate a eucalyptus patio set into your look. Use a lighter shade to complement a modern condo balcony in the city or choose dark wood dining sets for a Zen-style back porch.
Eucalyptus Patio Furniture
While you may see eucalyptus leaf prints and patterns used in outdoor and indoor decor, the wood itself is a wonderful addition to your patio. Consider decorating the outside of your home with individual eucalyptus wood pieces or complete sets:
Dining Furniture
Eucalyptus wood furniture has a breezy yet sophisticated look that's perfect for casual and formal outdoor dining. Check out bar stools and tables for your laid-back style or consider a eucalyptus wood dining table and chairs for something chic and contemporary.

Seating
There are a variety of seating choices made of eucalyptus wood, including conversation sets featuring armchairs and loveseats as well as ottomans, bench seating and rockers or accent chairs.

Decor & Accessories
A dark eucalyptus coffee table has a rustic look ideal for industrial or modern farmhouse decor. Meanwhile, lighter shades used for eucalyptus umbrellas, benches and side tables offer a casual look that blends right in with nature.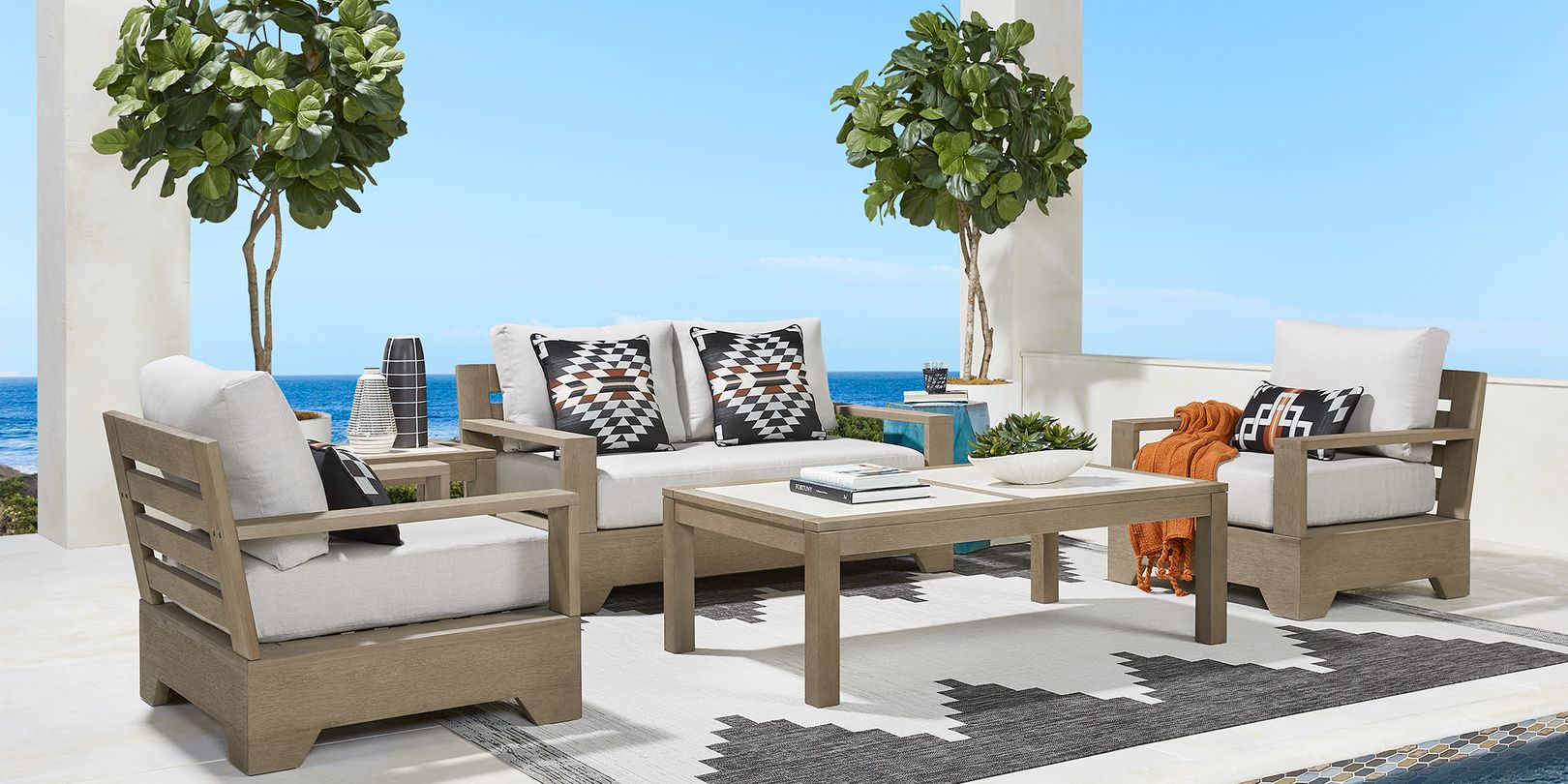 Treated eucalyptus wood offers comfortable seating.
Comparing Materials
The differences between eucalyptus vs. acacia vs. teak outdoor furniture are minor in terms of overall quality. You may need storage space for eucalyptus if you live in a colder climate. Consider lightweight acacia if you need to store or rearrange your furniture often. Though just as high quality, eucalyptus is often more cost-effective than both teak and acacia.
How Does Teak Stack up to These Other Wood Choices?
Most people consider teak the gold standard for outdoor furniture due to its high quality and beautiful appearance. However, the lower prices of acacia and eucalyptus furnishings increase their appeal when it comes to affordability. You can use any of the three hardwoods to capture the look you want in your outdoor space.
Which is Harder, Acacia or Teak?
When choosing between acacia vs. teak outdoor furniture, both are similar in hardness. Acacia is a lighter-weight wood, making it slightly more vulnerable to wind gusts. Teak and acacia both fair well as hardwoods used in outdoor furniture.
Does Eucalyptus Wood Weather like Teak?
All three hardwoods develop a patina over time. Eucalyptus has a similar look to teak when untreated. Depending on the shade of eucalyptus furniture you choose, the patina may look different from teak furnishings and can be more of a dark slate or a light, silvery gray. Many people choose eucalyptus because it is a more affordable alternative with a similar appearance.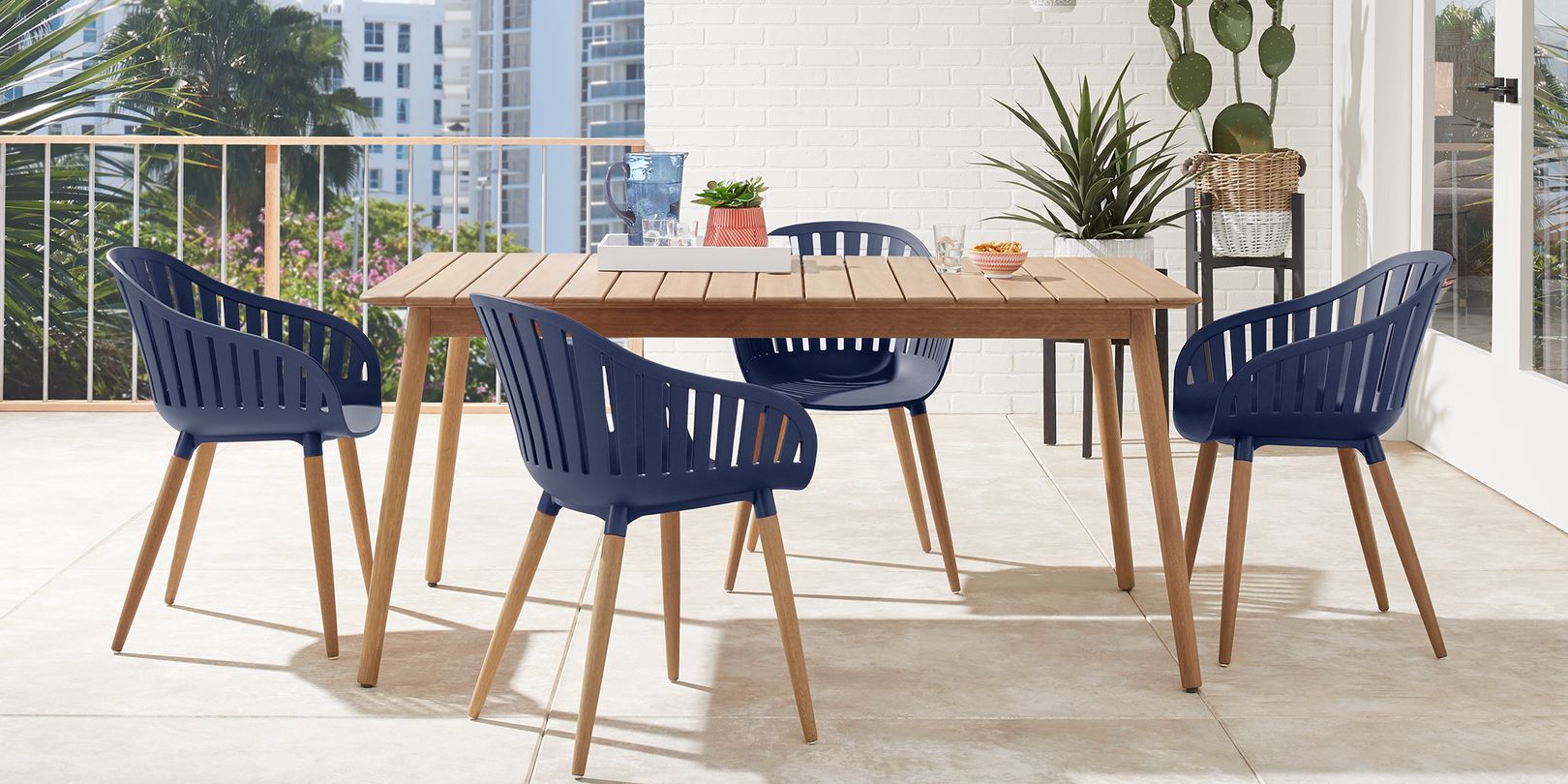 Whichever material you prefer, quality wood furniture is a great choice for patio seating and dining.
Wood Furniture Care
A large part of making sure your patio looks as stunning and personalized as possible is investing in quality furniture. A few additional accessories can help you with the upkeep of your wooden outdoor furniture. The following items can help you keep teak, acacia and eucalyptus patio furniture in good condition:
Covers
Fitted outdoor furniture covers help protect against harsh sunshine as well as dirt and debris.

Cleaners and Tools
Cleansers and protectants are a smart way to care for your furniture over time. Brushes, cleaning cloths and sponges are great for maintaining cushions as well.

Storage
Deck boxes and other outdoor storage can keep upholstered cushions and other fabric items cleaner and prevent them from blowing off your furniture in a storm.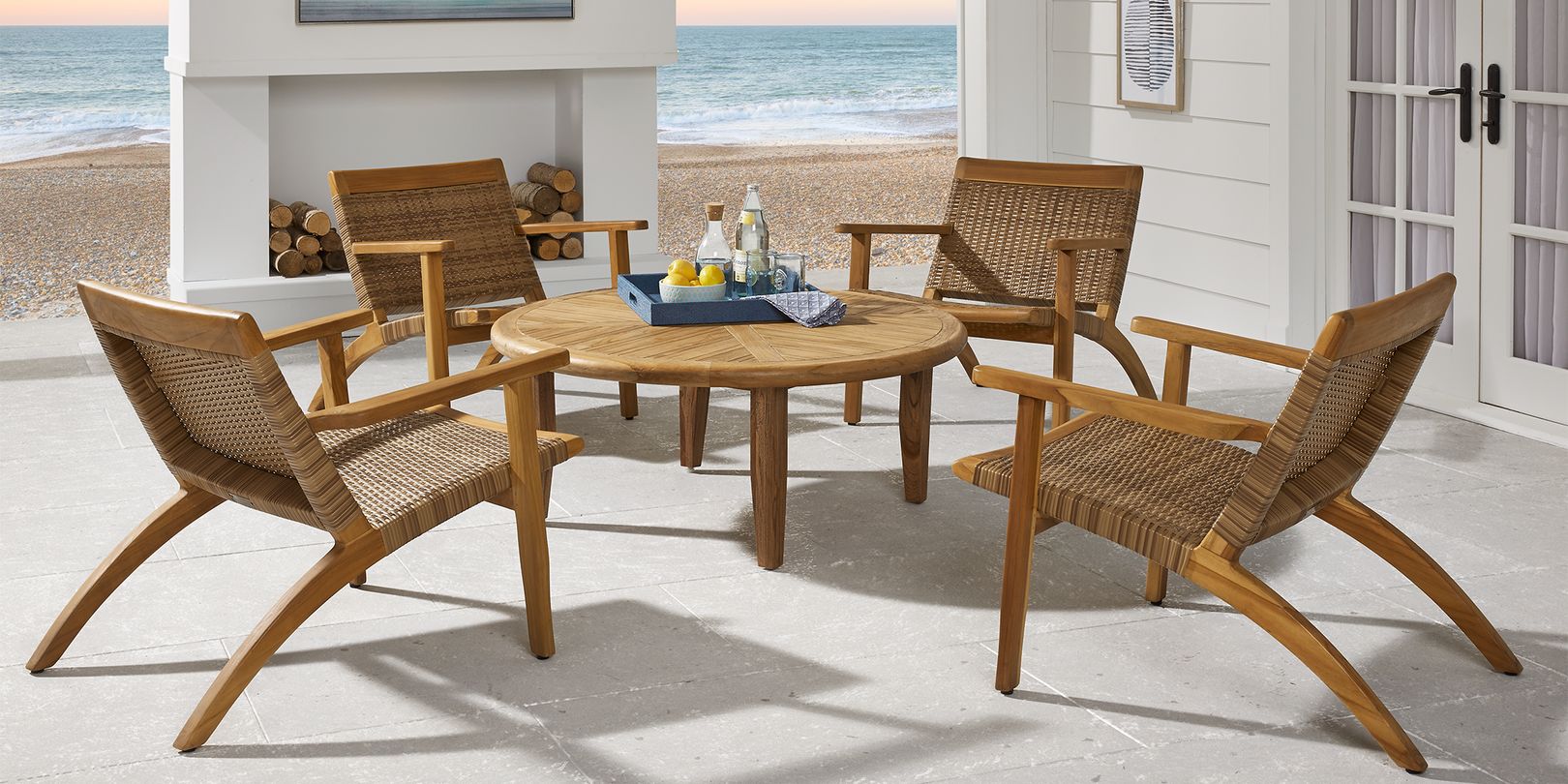 Wood furniture blends beautifully with other natural accents like wicker and rattan.
The Choice is Yours
Considering the different characteristics of eucalyptus, acacia and teak outdoor furniture takes the stress out of choosing the right material for your backyard. All three of these natural hardwoods can provide an outdoor layout perfect for backyard relaxation and entertainment.